An Appreciation of Dr. Cheddi Jagan
---
SPECIAL EDITION OF INDO CARIBBEAN WORLD
March 12, 1997
---
Indo Caribbean World
extends sympathy to the family, and to Guyanese, at home and abroad, on the sad loss of Dr. Cheddi Jagan.
---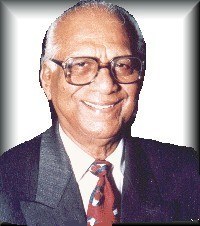 Dr. Cheddi Jagan
1918 - 1997
Section A
Introduction
A fighter to the end
On the day Dr. Cheddi Jagan died, Martin Carter, Caribbean poet, and one of those imprisoned along with both Jagans in 1953, remembered the late Guyanese leader for his indomitable fighting spirit.
"Cheddi Jagan was a very great man. I first met him when he returned from the USA in the 1950s. It was a time of great expectations, and we all looked forward to great political happenings. The subsequent history of Guyana, the detours, need no story to embellish it. Through it all Cheddi Jagan stood out, and stood his ground unwaveringly. As a fighter few could match his purpose..."
The last days of his life saw Jagan taking the fight to the limit as he battled a heart attack and its complications at the Walter Reed Medical Center in Washington, D.C.
As reports made the news about his strong will to stay alive, many regarded this as characteristic of his heroic struggles in Guyana.
For many, news of his "indomitable will" and commitment to staying alive was a signal that he would pull through, and as one official stated optimistically in Toronto at the start of the crisis last month, "Cheddi has a lot of life left in him. He'll pull through yet."
According to family members who kept vigil at Jagan's bedside at the Medical Center, Jagan's own "great spirit of resistance, his enormous capacity for struggling against the odds were very much in evidence."
Jagan's daughter, Nadira Jagan-Brancier, who was at his bedside throughout the crisis, last week recounted some of those moments at the Medical Center.
Her father, she said, had been fighting all his life, and it was no different in Washington.
"He defied all medical expectations... he kept going down and coming up when even they thought it was over. It was a live rerun of his whole life -- when he was down he kept fighting to get back up, but after a while he couldn't deal with it."
She said the doctors at the Medical Center even commented on how remarkable a man he was. "They couldn't believe he was getting through, when medically he should not have done so."
Most heart patients on a ventilator to aid respiration have to be heavily sedated, she said, but her father was not, and he was able to scribble them notes, some of which expressed his concern for the Guyanese people.
The family never gave up hope until the end, she said.
Jagan died at 12.23 a.m. on March 6, his death leaving a nation, and hundreds of thousands of Guyanese abroad, in mourning for a leader whose name will always be synonymous with being Guyanese, and with Guyana's politics.
Cheddi Bharat Jagan was born March 22, 1918, at Port Mourant, in the county of Berbice, the son of indentured labourers who came from Uttar Pradesh in India to work on a sugar plantation in what was then British Guiana.
As a young man, he studied in the United States in the late 1930s at Howard University, the Central YMCA (now Roosevelt) College for a Bachelor of Science degree. He later attended Northwestern University Dental School, where he became a Doctor of Dental Surgery.
According to the stories, at one time the young Jagan was holding down three part-time jobs to pay his tuition fees.
Shortly before his return to Georgetown, Jagan married Janet Rosenburg, in August, 1943. Janet was a Chicago girl who broke away from the strict marriage customs of her Jewish religion.
Back in Georgetown the couple helped form a political organisation that would lead the struggle for British Guiana's independence from Britain.
In 1946, Cheddi and Janet Jagan, and others, formed the Political Affairs Committee. This evolved into the People's Progressive Party in the early 1950s.
And in April, 1953, they won 18 of the 24 seats in the colony's Legislative Council. However, on October 9 the party, with Jagan as leader, and the late Forbes Burnham as chairman, was ousted by the British. The then British Guiana Constitution was suspended, with Britian fearing a communist threat.
Jagan, his wife, and a number of prominent Guyanese, including Carter, were jailed, ostensibly for defying a colonial order restricting movement.
After watching an interim government appointed by the British governor run the country, and Burnham set up his People's National Congress (PNC), Jagan again led his party to convincing electoral victories in 1957 and 1961, when the country gained internal self-government from Britain.
In 1962, when he was preparing for Independence, the country was paralysed by strikes and political violence. Jagan always charged that the U.S. Central Intelligence Agency had a hand in this.
As in 1953, British troops were again called in, but this time with Jagan's support, to restore order.
In 1963, the British changed the electoral system from the widespread "first-past-the-past" to proportional representation.
In the 1964 elections, Jagan's party went on to win the largest block of votes and seats, but without an overall majority to form the government.
And so he was forced out of office by the British, after refusing to step aside, and a United Force-PNC coalition government was installed.
Jagan always insisted that the British should first have asked him if he could form a government. Instead, a special Order in Council was passed in the House of Commons, and this forced him out of office. He always argued there was an Anglo-American plot to remove him from the government.
For 28 years he remained in the political wilderness of opposition, until he returned to power in late 1992, a period of time that is believed to be a Guinness World Record for a politician.
By then he was 74 years old. Relations with Britain, and the US, were getting better.
Jagan was able to reassure both western aid donors and investors, which Guyana needed, that they had nothing to fear from a PPP government.
"Our ideology is not democratic socialism at this stage, we are not at any stage of socialism," he said. "We are just laying down the foundations for good governance and efficient management."
Eyebrows must have surely been raised among Jagan's old European communist friends, particularly with a manifesto that highlighted the need for foreign investment to help the battered Guyana economy, and for the easy repatriation of profits.
The new administration, now with a changed face, the PPP/Civic, gave the assurance that businesses, whether local or foreign, would not be nationalised. This reassurance came from a past that had seen the sugar and rice industry nationalised by the PNC government that once controlled 80 percent of the economy.
Jagan pledged to build a mixed economy based on state, private and co-operative forms of ownership, with the state going into those areas of the economy "where private capital is unwilling or unable to go, and where it is in the national interest to do so."
The signs of recovery and healing were beginning to show, and the nation was well on its way with its healing start when Jagan complained of chest pains on the night of February 14.
Three weeks later, after a promise of recovery, he succumbed to complications caused by a heart attack.
There are many consoling factors that can be drawn from his sad passing. One that stands out is Guyana survives today because of his characteristic fighting spirit and indomitable will.
---
Section B
The Final Journey
'Simple but beautiful' ceremony as Jagan's body leaves for Georgetown
At 8.30 a.m., on the morning of March 7, a Guyana Airways Corporation (GAC) 757 aircraft, the national flag carrier of the Republic of Guyana, touched down at Andrews Air Force Base in Washington, D.C. On board was a delegation of about 80, including 36 honour guards of the Guyana Defence Force, Parliamentarians, Government Ministers, and other dignitaries.
They came with heavy hearts.
As if the weather knew, the cold and windy morning appeared to share the pervading sorrow. It forced the ceremony indoors.
And so the start of the final journey had begun for the soldier who fought bravely to stay alive to lead his nation out of its troubled past. It would be the first of many ceremonies marking Dr. Cheddi Jagan's final flight after a valiant but losing fight.
It was a "simple but beautiful" ceremony, Mrs. Jagan said later.
The event was attended by US President Bill Clinton's special representative, Assistant Secretary of State for Caribbean and Latin American Affairs, John Hamilton. On hand were other colleagues from the US government.
Hamilton said he was there to bid farewell on behalf of the American people to "a foremost statesman of the Caribbean region during the last half century."
Jagan was a "guiding force in Guyana's national life and politics for over 50 years," he said.
Additionally, Jagan was "one of those rare leaders for whom the promises of the political campaign became the obligation of his government, who put the interests and concerns of his people -- the working poor especially -- above all other considerations."
Said Hamilton: "He was a creative and principled humanist who sought innovative solutions to the problems of economic distribution.
"He brought the same humanity and forgiving nature to his conduct of foreign relations as he practiced in domestic and national affairs.
"The United States was proud to have developed the strong bonds of confidence and mutual respect that characterized our relations in recent years. We shared a common commitment to the democratic government for which President Jagan laboured and which he embodied.
"We extend our heartfelt sympathy to you and your family, Mrs. Jagan, and to the people of Guyana. Our prayers are with you as you accompany President Jagan on his last trip home to Guyana."
Earlier, Clinton had said in a written statement that he learned of Jagan's death with "deep regret." Jagan, he said, was "a champion of the poor who devoted himself to alleviating poverty in his country and throughout the Caribbean."
And former US president and friend of the Guyana government, Jimmy Carter, who was instrumental in realizing free and fair elections in Guyana in 1992, said Jagan would be "fondly remembered for his leadership and his struggle for Guyana's independence."
At the send-off ceremony, Agriculture Minister, Reepu Daman Persaud, part of the delegation that flew to Washington, extended thanks to the US government, its army, and the hospital staff for the care and concern for Jagan.
He said Guyanese were moved by America's special interest, care, and consideration in their hour of need.
Participating in the event was Dr. Cheddi Jagan Jnr., who in what was reported as a moving and emotional tribute, recalled the final hours as his father fought to stay alive at the Walter Reed Army Medical Center. Jagan Jr., with his head shaved in the Hindu tradition after the loss of a father, also expressed thanks to both the US and Guyana government for the support extended to his family in the ordeal.
At one point he was moved to tears as he read a poem he had written for his dying father.
Attending the ceremony was Safraz Waseem Ishmael, son of Guyana's Ambassador to the US, Odeen Ishmael. Safraz later posted an account of the ceremony on his Internet website, (http://www.guyana.org).
Said Safraz: "It was indeed a sad event as I witnessed the tears of strong men who (no one) would have thought were capable of such a great show of emotions.
"Nevertheless, the event was very dignified, and our well-dressed soldiers and members of the government present, made one feel proud to be Guyanese."
Most of the delegation were wearing black armbands; there were others with buttons with Jagan's photograph, he reported.
Outside, with the cold wind moaning in sympathy, the Guyana Airways jet stood tall as US military personnel, dressed in blue uniforms and blue coats, marched by in formation and stood at attention at the side of a black hearse. In the hearse, which moments before had approached the tarmac, was Jagan's body.
At this point, those at the ceremony exited the VIP room, and moved onto the tarmac, Safraz said.
And out of the plane marched the 36 soldiers, dressed in green camouflage and red berets. They were the Honour Guard of the Guyana Defence Force. The formation marched along the side of the aircraft, and then towards the hearse, where they finally stood at attention after forming a line from the hearse to the plane.
Said Safraz: "The US Air Force band then began a slow, and beautiful, yet very sad, rendition of 'Dear Land of Guyana.' Five cannons behind the aircraft began booming shots.
"The cannons gave the President a fitting 21-gun salute as US Marine and Navy soldiers delivered the casket with our President to the airplane.
"It was a very emotional event as Dr. Jagan's casket, draped in the Golden Arrowhead, was carried (up) and into the plane, and as the Guyanese soldiers marched back to the aircraft.
"The family said their goodbyes and boarded the plane. As the Boeing 757 began moving, the US Army personnel gave it and Dr. Jagan one final salute, and left the field."
Said Safraz: "It was a very emotional day, and tears flowed even from U.S. personnel moved by the ceremony. As the GAC jet rose into the cloudless, blue sky, I said a silent and final goodbye to the man who has inspired not only myself, but my entire nation."
Outside the day was growing bitterly cold.
(With files from the Guyana Chronicle and Safraz W. Ishmael).
---
Section C
The Final Homecoming
Nation bursts into tears as GAC 'plane circles Georgetown
Guyanese came wearing black armbands and carrying black flags. They came with photographs, posters, newspaper clippings of photographs, of the late Dr. Cheddi Jagan.
They came by the thousands. They thronged the way to the airport. And when the Guyana Airways Corporation (GAC) 757 aircraft approached Georgetown, and circled the mourning city twice, they were holding up their tokens in tribute.
But many could not hold back the tears.
Anand Beharry who witnessed the homecoming in Georgetown, and later e-mailed a report to the Guyana News and Information website, said the plane "circled the city very, very, low at 4:45 p.m." on March 7.
"I was on the sea wall at the time. People around me broke down and started crying," he reported.
At the airport, "the turnout was something to see. People lined the way People drove from Berbice by the mini-bus-load to be there for his arrival.
"I've never seen this kind of outpouring of affection and sadness for any public figure in Guyana," he said.
"Every home, and business place is draped in black flags, people are wearing swatches of black, red, and gold cloth on their lapels: black for death; red to celebrate his life; and gold, for the shining future he guaranteed us," Beharry said.
Indeed, it was a tearful homecoming, Sharief Khan reported in the Guyana Chronicle on March 8.
"A mournful chant filled the air from the huge crowd around State House in Georgetown as the convoy accompanying his flag-draped casket ended the last lap of the journey from the Timehri International Airport," Khan reported.
"Bearing their fallen Commander-in-Chief in the Army truck, the sides open to public view, were members of the Guyana Defence Force (GDF), sombre in their ceremonial red berets, white tunics and green trousers.
"In the truck for the procession from Timehri to Georgetown, the late President's son, Dr. Cheddi Jagan Jnr., sat with three of the Army bearers at one end of the casket, two at the other end.
"Behind them in the convoy were the fallen hero's wife Janet, and their daughter Nadira Jagan-Brancier, their daughter-in-law Nadia, and son-in-law Mark Brancier, and the couple's five grandchildren.
It was a moving final return home for the indefatigable Guyanese national warrior who had dedicated his life to the betterment of the ordinary people and the Guyana he loved so deeply," Khan wrote.
A grateful nation was showing a deeply-felt tribute, he said.
Khan reported that tears started to flow when the GAC Boeing 757 "twinkled its landing lights in a darkened western sky, the afternoon sun peeping out from behind sombre clouds."
There were black flags of mourning everywhere. Black banners were strung out on the tarmac side facade of the airport; there were 15 black flags hanging on blue painted poles on the northern boundary at the runway area.
The presentation "reflected the mood," he said.
As the GAC bird touched down on the tarmac at 4.58 p.m. "women hugged and patted each other, tears flowing "
It was the same tarmac from where Jagan had waved to cameras and reporters three weeks before, as he left for Panama and then to Washington, D.C.
It was, in hindsight, his final wave, his goodbye, to the nation he loved to his end.
Prime Minister Sam Hinds, sworn in as President the day before, and wife Yvonne, led the official airport party to receive Jagan's body.
Government ministers, members of the diplomatic Corps and thousands of others were there for the final homecoming.
Commanding the 96-member Guard of Honour by the Joint Services which marched on to the tarmac to the beat of black-draped drums at about 4:05 p.m., was Major Alonzo Hartley of the GDF.
They then stood, facing west. As the jet taxied in, the band struck a solemn sound.
Said Khan: "The aircraft taxied east, took a slow arc to the north, then west and north, and the engines went into a mournful whine as it nosed east, and parked
"The mobile steps were moved into place, and President Hinds led the welcoming delegation to the reception area on the tarmac at the bottom of the stairs."
Mrs. Jagan was the first out, and was greeted below.
"Calm, composed, an epitome of dignity, she hugged her way down the line of dignitaries, including leading government and party comrades.
"As she made her along the stretch, a muffled 21-gun salute went up in tribute to the late President as his casket was lowered from the aircraft, and onto the Army truck that would lead the cortege to the city.
"Fellow longtime stalwart of the People's Progressive Party, she and her husband helped round some 50 years ago, Mrs. Philomena Sahoye-Shury, burst into tears as they clasped each other in a silent, close moment of sad togetherness at the loss of a comrade.
"Other female party members wept openly in the moment as thousands outside and around the tarmac area shared the agony.
"Well-known amputee, William France, was among others hugging Mrs. Jagan on the tarmac, offering condolences "
The journey from the airport was accompanied by a mournful dirge, chanted by thousands and thousands as the procession made its way to Georgetown.
"One distraught woman, clutching a black flag on a stick summed it up as her leader's body passed her way: 'The hero has gone...'"
If there was a positive note, it was that the sad homecoming brought out a touching side to the nation, Beharry intimated. In a nation that has sometimes seen politics of division and suspicion, the showing was "refreshing" and "wonderful to see," he said.
"You know they say death brings a family closer together? It's doing wonders for us," he said.
(With files from Sharief Khan, Anand Beharry, Nivedta Kowlessar, and Robert Bazil.)
---
Comforting hymns rise above sounds of mourning
A mournful chant arose as the outriders escorting the procession from the airport with the body of Dr. Cheddi Jagan swung into Main Street.
As the flashing red and green lights slowly came nearer, bodies began to press tightly against the barriers as people leaned forward to catch a glimpse of the casket, draped with the Guyana flag that carried the remains of the late President.
As the vehicle went by, some waved respectfully. Out of the crowd the sounds of wailing began to rise, but slipped under as a wave of song surged: it was a hymn, comforting but melancholy: 'What a Friend We Have in Jesus.'
The hymns continued long after the procession had passed: 'When the Roll is Called Up Yonder' and 'Blessed Assurance.'
Thousands were present on the streets. They came from all ethnic groups, religions, and political affiliations.
The grief was palpable: among men, women, children.
Earlier that afternoon, police had cordoned off the eastern carriage of Main Street between Lamaha and Middle Streets. By 4 p.m. there was hardly standing room in front of State House.
Many looked on with prayers on their lips; many were in silent thought as the procession moved along the East Bank Demerara Road, Mandela Avenue, Sheriff Street, along the Rupert Craig Highway, into Public Road Kitty, into Vlissengen Road, west into Lamaha Street and into Main Street.
One schoolteacher, who was among mourners on Sheriff Street, told the Guyana Chronicle that news of Dr. Jagan's passing was a shock because he had not been ailing for a significant period of time.
"All of a sudden everything was over ... and that was a lot of grief.... Dr. Jagan was a humble man . he could have been approached by anyone no matter what status in the society they held," she said.
"People still do not know what they have lost ... losing a President is like a wonder -- some people take it lightly, but others take it deeply."
And she recollected years ago, when Jagan, while coming out of his Bel Air home, would stop and give her a lift in his car, and others, who were on the road waiting for transportation.
Jagan was the "people's father," she said.
Another woman, Azimoon Bacchus, said when the news about the Jagan's death came, it was like a dream.
"I said to myself that somebody telling lies... because we believe that people like him will live very long... I did not cry, but definitely felt it when I heard the President was dead," she said.
Campbellville's Leslie Mohan said citizens were prepared for Jagan's death as he was critically ill. However, Guyana certainly felt it when he died.
Jagan was the only person who could have led Guyana, but with his passing "the people have to stand fast," he added.
---
Section D
The Farewell
Thousands gather to say goodbye, pay last respects
In tribute, respect, and love, the weekend saw thousands and thousands of Guyanese filing past the casket holding the body of late President, Dr. Cheddi Jagan. Clutching a single rose, or a buttercup, large wreaths, cloths and handkerchiefs, with babies in arms, Guyanese of every race, colour, and creed came to pay their last respects.
His body lay in State in a wooden casket with a glass top. It was placed under a green canopy on the lawn of State House, Georgetown.
The viewing saw a massive outpouring of emotion. The flow of mourners, well-dressed for the solemn occasion, some men wearing suits, began early on Saturday morning, and continued late into the night.
The lines continued the next day.
Thousands cried as they took a last look at his face. Thousands of hands tried to touch his face or hands through the glass. He was dressed in a white, long-sleeved shirt jacket, his face heavily made-up due to the bloating caused by medication given in his last hours alive. There was a slight smile on his pale lips.
And thousands and thousands of hands were extended to the attending family.
Many hugged Mrs. Jagan in tears.
And the lines of grieving Guyanese waiting for their chance for a last view grew and grew.
The gates of the official residence were opened to public at 6 a.m. on Saturday morning. Each hour saw the lines lengthening. By 6 p.m. the lines had extended past New Market Street on the southern side of State House, and turned into Middle Street. An average of 30 persons per minute were filing past.
The very young, young, middle-aged, and elderly entered through the wrought-iron gates on Main Street in the west, and exited on the opposite side in Carmichael Street.
The usually busy Main Street was remarkably quiet. In State House, only the sounds of footsteps could be heard. People spoke in hushed voices. There was a mournful strain of low music from a speaker placed a short distance away from the casket.
"Goodbye dear President," a middle-aged woman said loudly while weeping openly. "Thank you, and I hope we will met again one day."
After her came a group bearing black flags on sticks, led by two pundits in white.
"Hare Rama, Hare Rama," they chanted as they passed the coffin. Two members of the group held up a banner with the words 'Guyana Sanatan Dharma Maha Sabha.' After passing under the canopy they stepped aside onto the lawn and stood there chanting.
On Sunday, an Afro-Guyanese man, when he approached the casket, said: "Had I known he needed a heart, I would have let them take mine and give it to him. This man has been my inspiration. He lived for the upliftment of the ordinary people in this country." The man continued to weep openly for some time.
Present were widow, Mrs. Janet Jagan; daughter Nadira Jagan-Brancier; son Cheddi Jagan Jnr., and daughter-in-law Nadia. The grandchildren were there too. Relatives were in attendance.
The guards were changed every hour, providing the only breaks in the movement -- about two minutes long.
The young were helped up for a last view by a Presidential guard. Sometimes the movement of the lines stopped as some lingered for a last, long look. Many took photographs.
Nadira occasionally wiped away tears. Eldest grandson, Cheddi Jnr. II, was red-eyed.
Mrs. Jagan smiled sadly at times, her cheeks stained with lipstick from the greetings she received.
In the lines were limping grandmothers, and the disabled. The guards removed the cordon around the casket to allow access for a young woman in a wheel-chair.
One group of women sang a religious song. Some saluted. Some waved.
At least two women fainted during the afternoon. There were medical teams outside and inside the compound.
In the lines, some said they rose as early as 2:30 a.m. to make the journey to Georgetown. They came from as far as Bartica, Leguan, and the Essequibo Coast.
Among those paying their respects during the late afternoon were former Finance Minister, Asgar Ally; Dianne McTurk, of Karanambo Ranch, Rupununi; Comptroller of Customs, Lloyd Forde, and Member of Parliament, Kim Kissoon.
Mrs. Jagan and her two children later said they were overwhelmed with the outpouring of sympathy coming from Guyanese of all walks of life.
On Saturday Mrs. Jagan told reporters that she was overwhelmed with the outpouring, adding "he lived for the people."
Jagan Jnr. said he was also overwhelmed. And although he expected a good response, what he saw was beyond his expectations. He now knew "what a great man" his father was.
Nadira said the greatest tribute her father could have had was this tremendous last moment of respect bestowed on him by the Guyanese people. "My father did not waste his years... he accomplished something -- unity," she said.
---
Grieving nation bids final farewell to leader
In a touching ceremony on Monday, a grieving nation bid farewell to its leader and son, Dr. Cheddi Jagan.
Specially invited guests, including Caricom prime ministers, were present for the State funeral, which went on for a little over two hours.
Chairing the proceedings was Information Minister, Moses Nagamootoo.
President Hinds spoke first.
"Time has borne away our dear comrade and captain, Dr. Cheddi Jagan, a Guyana patriot unto his death; still as enthusiastic, still as full of fervour, still as passionately committed to the Guyanese nation, the Guyanese people as when he first hoisted the flag for a people's party 50 years ago," Hinds said.
Saying farewell to "our President, our leader, out teacher, the father of our nation," Hinds said the greatest tribute Guyanese could pay to the late President would be to carry on along the paths as he has indicated.
"Dr. Jagan's spirit and governance will continue. I and my Cabinet will continue, as a President and government in the service of all our people," he declared.
"In Dr. Jagan's death, our nation is experiencing great agony -- the long, disciplined, reverent lines of people from all walks of life, all ages and all races, paying their respects, must have been a great consolidation and reassurance to his dear wife and family; and to us all. That service to the people and nation will not go unrecognised.
"Our nation shall go forward in greater unity, stronger in all ways because of the life and death of Dr. Cheddi Jagan. He would want nothing better."
Agriculture Minister, Reepu Daman Persaud, who led prayers, said Jagan was "an integral part" of Guyana's history, and "moved among us and touched us deeply." And while his mortal body will shortly be consumed, "his great and unequalled contribution to his country will remain indelibly imprinted in our hearts and minds."
Persaud said Jagan has been described as a humanist, a consistent and tenacious fighter for peace, for freedom, for political and economic independence, and for Caribbean and Third World integration with the ultimate objective of social justice.
Among those paying tribute were co-founder of the Political Affairs Committee (the forerunner to the People's Progressive Party), Ashton Chase; Education Minister Dale Bisnauth who read from Martin Carter's Poems of Resistance; Public Relations Advisor to the President, Vic Insanally; Home Affairs Minister Feroze Mohamed who read the eulogy.
As well Opposition representatives -- People's National Congress Leader Desmond Hoyte; Dr. Rupert Roopnaraine of the Working People's Alliance, and Manzoor Nadir of the United Force.
In the eulogy, Mohamed described Jagan as a "great man with an indomitable spirit."
Jagan, he said, was a leader with understanding, and whether he was working on practical, political work or theoretical strategy, his unswerving commitment to principle was always foremost.
Jagan imbued the PPP with the revolutionary spirit and always advocated politics of the working people, Mohamed noted.
---
Section E
The Politician
Mrs. Jagan likely to take up reins of leadership?
The death of Dr. Cheddi Jagan has left the question hanging as to who is most likely to become his successor as head of the People's Progressive Party (PPP), and effectively, the government.
The signals have been strong that wife, Janet Jagan, would take up the reins of the PPP and the Presidency.
Days before Jagan's death, Information Minister, Moses Nagamootoo was reported as saying Mrs. Jagan "would be an obvious first choice in the collective for what we prefer to discuss in terms of a transition process."
He added that Mrs. Jagan "is a most remarkable woman and an indomitable political fighter."
At the height of the crisis, Mrs. Jagan was reported as saying she would not comment on the possibility of her accepting the invitation to succeed her husband as President. General elections are due not later than March 1998, and could be held in October this year.
And on Sunday, she said it was too early to say exactly what the future held for her.
Additionally, "All my life I've been a member of the PPP's Central Committee and Executive Committee, and I'm certainly not jumping out of that position which is crucial.
"I have been Editor of the party paper for many years, and I have enjoyed the work, so probably all the things I've been engaged in will continue.''
Mrs. Jagan is considered by the 50-year-old PPP, of which she is one of the four co-founders, to be "the most experienced and knowledgeable of the party's leading officials..." Nagamootoo had said.
"At some of our most critical periods, including the long struggle for political independence and restoration of electoral democracy, she embodied, alongside her husband, the courage and defiance of the PPP," he said.
This embodiment would make her "easily the strongest candidate in the collective for President, should this become necessary," Nagamooto had said.
Jagan died on March 6, following which, as the Constitution requires, Prime Minister Sam Hinds, was sworn in as President.
Mrs. Jagan was born in Chicago, where she met Cheddi Jagan while studying dentistry. They were married in August, 1943.
The couple became involved in his political struggles that covered half a century.
Along with her husband, she and two other colleagues, Ashon Chase, and the now deceased Jocelyn Hubbard, formed the Political Affairs Committee in 1950 that emerged into the PPP.
She was among the political prisoners in 1953 when the British suspended the British Guiana Constitution to throw out of power the country's first popularly elected government. It was headed by Jagan, and included the then chairman of the PPP, the late Forbes Burnham.
On Sunday she said her greatest regret was that her husband could not complete what he started. "That's what I feel most sad about. There were so many things he had to do."
Nevertheless he achieved a lot, she noted, by helping to awaken the spirit of the Guyanese people.
"When we first entered trade union and political life people weren't paying attention, but just accepted what existed. He struck a spark and kept going all these years,'' she said.
She also felt the attention he paid to young members of the PPP was beginning to show. "What he believed in, they are preparing for, and we have young and capable leaders in our party who will carry the torch,'' she declared.
For some 20 years, Mrs. Jagan, also a founder of the Women's Progressive Organisation (WPO), held the post of General Secretary of the PPP. She is currently a Member of Parliament.
Mrs Jagan has served in various cabinet posts in PPP governments during the decades of the 1950s and 1960s, including Minister of Health, and Minister of Home Affairs and National Security. She was one of the first three Guyanese women to have entered parliament following the 1953 general election that swept the PPP to power.
Mrs. Jagan is also the first woman to have been elected to the Georgetown City Council.
Guyana's opposition parties pay tribute to Jagan
Opposition parties in Guyana last week remembered Dr. Cheddi Jagan as a leader who was committed to national development.
"Dr. Jagan was undoubtedly one of the outstanding people in our history. He dedicated his life to furtherance of the political and national interests of this country and in pursuance of the ideals which he embraced with such fervour," said Desmond Hoyte, leader of the main opposition People's National Congress (PNC).
Hoyte said Jagan's contribution was assured of a place in history.
"I do think that our politics is not going to be the same again, and within that context I have no doubt that new leaders will arise to take this country forward into the next century," he added.
Co-leader of the Working People's Alliance (WPA), Dr. Rupert Roopnarine said at first news of Jagan's passing that Guyanese nationals should stop and take stock.
"His not being here really does open an entirely new situation.
"I mean we are literally at the end of an era with the passing of Dr. Jagan, and I hope what it means is that we are going to take careful stock of ourselves as a people, and try to draw deep on ourselves, and try to arrive at a position of strength," Roopnarine said.
The United Force (UF) leader Manzoor Nadir said that the passing Jagan would change Guyana's political landscape.
"Guyana has lost its greatest friend and father of the nation without Cheddi Jagan (it) will mean profound changes in the politics of Guyana, certainly there will be persons and parties trying to position themselves to fill the void which his passing has left, and out of all of it, I believe Guyana will emerge a more united and strong nation."
Gordon Todd, President of the Guyana Trade Union Congress (TUC) said Jagan's death was "a great loss, a tragic loss to the Guyanese nation."
---
Caricom leaders hail Jagan as a regionalist
Caricom leaders last week recognized the late President of Guyana, Dr. Cheddi Jagan, as a true regionalist and unrelenting fighter. Jagan died at the Walter Reed Medical Center in Washington, D.C., on the morning of March 6, three weeks after suffering a heart attack in Georgetown.
Dominica's Prime Minister, Edison James, said Jagan was truly committed to the regional integration movement.
"All of us as Caricom heads will remember one of the major contributions that Jagan continued to make, and that was to urge all of us as to the need for a Regional Development Fund, later named the Regional Integration Fund -- something which Jagan saw as a crucial and indispensable tool in taking this region to a higher level of development," James said.
"He was deeply concerned about where we were going and the extent to which this region as he saw it was being put in a situation where its trade was being affected and its ability to develop itself was being affected," James added.
Caricom Secretary-General Edwin Carrington, described Jagan as a visionary whose work and struggle for the region's social and economic development will live on.
There was no problem was too large for him to tackle, and no issue too small for him to pay attention to, he noted.
"We have lost one of our most visionary leaders, one of our most determined fighters for Caribbean development -- a man who was not afraid to come to grips with the peculiar problems of the region and to forge ideas and approaches which respond to these peculiarities," Carrington said.
"We may well find that in death, he would achieve what he may not have achieved in life -- that is, in reflection, the proposals which he have put forward in a number of community and regional life may well be those which will guide us in the immediate future," he said.
Grenada's Prime Minister, Dr. Keith Mitchell, said President Jagan had led a strong fight to unite the region and was a champion of the working class.
"He showed genuine love for all Caribbean people and was a champion for the working class in the country and has been consistently so throughout his entire life," Mitchell said.
"I don't think there is any politician that has shown that longevity in terms of standing for principles, despite the difficulties which he had to face in Guyana in the '70s and the '60s and so on.
"I think he played an immense role in the struggle in the '60s and '70s in the Third World context when he stood firmly in the position on South Africa and Black people of South Africa," Mitchell said.
In Bridgetown, Barbados' Prime Minister, Owen Arthur, reflected on Jagan's life and achievements, saying it was a privilege for him to work with such a crusader for sovereignty and champion of Third World solidarity and development.
Said Arthur: "It is with great sadness, that on behalf of the government and people of Barbados, I join the world in expressing deepest sympathy to the government and people of Guyana, and the family of the late Dr. Cheddi Jagan, the former President of the Cooperative Republic of Guyana on the occasion of his passing
"Few of us have the privilege to work and be associated with historical figures of another era, but such has been the case with those of my generation, who as Caribbean leaders in the nineties, have been blessed with the opportunity to work with Dr. Jagan in recent years as he pressed on with his mission to forge a lasting Caribbean unity.''
In Kingston, Prime Minister, P.J. Patterson described Jagan as "a towering figure in Caribbean politics".
Said Patterson: "His political tenacity and intellectual contribution to the dialectics of our time can never be questioned."
He added: "Dr. Jagan was a towering figure in Caribbean politics whose remarkable career began in the fight against colonial oppression, and ended in his efforts as Head of State and government to achieve the full development of his people and the abundant resources of his sovereign country.
"His political tenacity and intellectual contribution to the dialectics of our time can never be questioned.
"His long and dedicated service will leave an indelible stamp on Guyana and in time the entire Caribbean and the developing world as a whole.''
And Parliamentarians in St. Vincent and the Grenadines paid tribute to Jagan during the first sitting of the House of Assembly for this year.
Jagan was described as a pragmatist, a regional legend, and a leader who fought for ethnic unity in his homeland.
"Cheddi Jagan, perhaps, beyond all politicians in this region demonstrated the fortitude exceeded by none," said Prime Minister, Sir James Mitchell who led off the tribute last week.
"I do not know who else would have languished so long with so much adversity and still stay the course," he said.
Jagan was kind and generous says T&T Prime Minister Panday
Trinidad and Tobago's Prime Minister, Basdeo Panday, last week described the late Dr. Cheddi Jagan as a saint, saying this "may well have militated against his politics."
He added: "Cheddi was the most kind, the most generous person that I have ever known."
And while one might not have agreed with Jagan, Panday said the late Guyanese leader was very clear in his vision for his society, and was prepared to stick to it and give his life for it.
Panday noted he and Jagan had a long association, and recalled they were both trade union leaders and addressed conferences at each other's unions.
They were also two of the longest-serving Opposition leaders in the Caribbean; and then eventually became leaders of their countries.
Panday said he expected the transition in Guyana would be smooth in the wake of Jagan's death.
"I have no doubt. You see the people of Guyana, unfortunately, have suffered great trauma in the past, where they had these racial conflicts, and I think that has resulted in greater maturity in the society, and that the people of Guyana would not want to return to that kind of conflict and trauma," he said.
Foreign Affairs Minister, Ralph Maraj was stronger in his comments.
He blamed past Caricom leaders and governments, including Trinidad and Tobago's, for denying Guyana the "enlightened leadership" of Jagan.
"(Guyanese) were denied this through the dictatorship of Forbes Burnham, and in my view it is indeed very, very sad that when under Jagan's leadership in such a short space of time the country is once more on a growth path, the people of Guyana are now denied his leadership for always."
Maraj went on to accuse former Caricom leaders and governments of "consorting, supporting and mollycoddling" the late Burnham.
"Had the leaders of the past objected to Burnham's usurpation of Guyana's democracy in a committed and vigorous a manner as we opposed the dictatorship in Haiti, Burnham would not have lasted so long, and the people of Guyana may have had the benefit of a longer period of Cheddi Jagan's enlightened leadership. Our inability and unwillingness to deal with Burnham remains a blot on the history of Caricom," he said.
Maraj said Jagan was an intellectual giant and an unrelenting fighter for economic and social justice.
President-Elect, A.N.R. Robinson described Jagan as one of the most remarkable politicians in the region.
"His outstanding qualities were his warmth, his generosity of spirit, his tenacity of purpose, and his consuming passion to improve the lot of the poor and the powerless."
Opposition Leader Patrick Manning, who remembered receiving Jagan's autograph at 12 years of age, said his place in history was assured. His death marked the end of an era, Manning said.
Dr. Brinsley Samaroo, UWI Senior Lecturer in History, and a former government minister said Jagan had inspired a "whole generation of Caribbean people through his clear writing."
---
St. Vincent govt says Jagan fought for unity
St. Vincent and the Grenadines last week paid tribute to the late Guyana President, Dr. Cheddi Jagan, by describing him as a pragmatist, a regional legend, and a leader who fought for ethnic unity in his homeland.
The tribute was made during the first sitting of the House of Assembly for this year.
"Cheddi Jagan, perhaps, beyond all politicians in this region demonstrated the fortitude exceeded by none," Prime Minister, Sir James Mitchell, said at the sitting.
"I do not know who else would have languished so long with so much adversity and still stay the course, smaller man, lesser men would have abandoned the struggle," he said.
Jagan survived the transition from colonialism to independence and from communism to a market economy, and was not out of touch with current-day developments, James noted.
"President Jagan and I have been on the stage together. We have shared a lot together.
"I am proud of that legacy, and convey from this House (of Assembly) from the people of St. Vincent, condolences to the people of Guyana," he said.
Dr. Ralph Gonsalves, deputy political leader of the opposition Unity Labour Party (ULP), said Jagan was a unique human being who was a fine writer and scholar.
"Cheddi Jagan is the only Caribbean political figure from the 1940s to the 1990s, but for his forcible removal from parliament in 1953, has had an unbroken period of election, and that is why I call him unique," he said.
Gonsalves said he and Jagan shared a close and ongoing friendship.
"On many, many occasions, Cheddi discussed with me his succession (but) I will not speak of that here, or at all, as to what or who were his preferences," Gonsalves said.
---
Section F
History
Jagan last of the leaders who fought colonialism
By Frank Birbalsingh
The death of Dr. Cheddi Jagan removes the last member of a generation of Caribbean political leaders who fought for liberation from British colonial rule: Norman Manley and Alexander Bustamante of Jamaica, Eric Williams of Trinidad and Tobago, and Grantley Adams of Barbados; but this common British colonial background tends to hide differences between Jagan and the others: he came from a family of Indian sugar plantation workers, whereas they belonged to an Afro-Caribbean or Creole, or urban or middle class background; and while he was educated in the US, they were products of British schools and universities.
Jagan's birth (1918) and upbringing on a plantation are important because they exposed him to conditions of physical hardship and economic exploitation that imbued him with a passion for justice and freedom from oppression.
During 1936 to 1943, firstly at Howard, an African-American university, and later at Dental School in Northwestern University, Chicago, Jagan's passion for justice was further stimulated by the racial discrimination that he observed as part of the everyday experience of African-Americans.
In addition, Jagan read Karl Marx's Das Kapital, and the writings of Jawaharlal Nehru and other Indians who were in the final stages of their struggle to free India from British colonial rule. Perhaps the most significant influence on Jagan at this time came from Janet Rosenberg, and American student nurse who shared his evolving revolutionary beliefs, and who later became his wife.
After his return as a qualified dentist to Guyana in 1943, Jagan had the option of a comfortable, middle class life because of his profession in a typical, Caribbean colonial society that was structured on the basis of race, class, and colour, with whites at the top, browns in the middle, and blacks (including Indians) at the bottom.
Instead, he threw himself into what would prove a lifelong struggle to break down this rigidly feudalistic and unequal structure in order to achieve freedom, justice, and equality in Guyana.
The organisation that he founded in Guyana in the late 1940s, for example, the British Guiana East Indian Association, the League of Coloured People, and The Manpower Citizens' Association lacked either his radical, ideological aims or high sense of personal commitment, and he formed a group, the Political Affairs Committee (PAC), that originally included his wife; Ashton Chase; and Jocelyn Hubbard. The PAC also published Bulletin.
In 1947, Jagan made his first political breakthrough by getting himself elected to the Legislative Council that was then the ruling body in the colony with a British governor as the Chief Executive. His performance in this legislature, dominated as it was by a (race/colour-based) social and economic elite who were his very target, is a saga of heroism that is probably without parallel in the political history of the entire Caribbean. Like Daniel in a den of roaring lions, from 1947 to 1953, Jagan painstakingly researched and collected documents, data, and statistics that he tirelessly incorporated in speech after speech in the process of mounting, absolutely single-handed, a daring, courageous, and magnificent advocacy of the Guyanese working class.
Meanwhile, old European empires that had shaped the modern world were coming under intense fire from an international movement against colonialism immediately following the end of World War II. The Caribbean also became part of this global decolonisation, and the British were forced to grant a more advanced Constitution and universal adult suffrage in elections that were to be held in Guyana in 1953.
At the same time, the PAC had blossomed into a full-scale political party -- the People's Progressive Party (PPP) -- that was founded in 1950, and the PAC Bulletin became Thunder, the newspaper of the PPP.
In the 1953 elections, Jagan led the PPP to win 18 out of 24 seats and claim a sweeping victory. For the first time in its history Guyana had a broadly based, multi-racial, united and popularly elected government based on universal adult suffrage.
Yet, merely 133 days later, because of fears that the new government was heading toward communist dictatorship, the British governor, Sir Alfred Savage, dissolved Parliament and crushed Guyana's first experiment in real democracy. Several PPP leaders, including Jagan and Mrs. Jagan, were later jailed.
Hindsight now allows us to see that the 1953 disaster started a process in which the remarkable national solidarity achieved by the PPP, based on multi-racial, democratic principles, would become systematically unravelled.
In 1955 L.F.S. Burnham, the Afro-Guyanese party chairman led some of his supporters within the PPP to break away and form a new party that was later called the People's National Congress (PNC).
This was a tragedy because it acted as a catalyst to racial polarization that would destroy multi-racialism and national unity in a country where the two largest sections of the electorate, Afro- and Indo-Guyanese, were now given a clear choice between one party that was Afro-Guyanese, and another that was Indo-Guyanese.
Despite this tragic development, after a period between 1953 and 1957, when an interim, nominated legislature formed the government, the PPP won fresh elections in 1957 and 1961. Jagan served as Chief Minister and Minister of Trade and Industry in the first of these administrations from 1957 to 1961, and as Premier and Minister of Development and Planning in the second from 1961 to 1964.
The achievement of these two PPP administrations is impressive all round, but particularly in agriculture, labour, health care, and education. Their establishment of the University of Guyana, for example, remains a lasting achievement.
But by the early 1960s, if Guyana was already damaged internally by the disease of racial polarization, it became the victim of an equally deadly external disease in the form of the Cold War, and the combined result of these two diseases was riots, strikes, burnings, killings, and general unrest.
The Cold War was precipitated by the collapse of old European empires that had left a vacuum in the international balance of power which was now filled by two nations -- the US and the USSR -- each with competing political ideologies, American capitalism on one hand, and Soviet communism on the other.
The US which was acutely nervous about the establishment of a communist beachhead by Fidel Castro in Cuba, was determined not to allow another communist administration in "their" hemisphere: hence their hostility to Jagan who was suspected of communist sympathies, and hence the extent to which they went in Guyana, through the CIA and other groups, to foment unrest and prevent an administration by Jagan.
Alas, they succeeded, and as a result of the combination of internal racial politics and external Cold War machinations, a system of proportional representation was devised for election in Guyana in 1964.
Although the PPP won a majority of the seats in these elections, proportional representation allowed two other parties -- the PNC, led by Burnham, and the United Force, led by Peter D'Aguiar -- to form a government.
The "defeat" of the PPP in 1964 was a turning point both in the career of Jagan and in the modern history of Guyana, for it initiated a period of PNC rule that was to last for 28 years until 1992 when the PPP, in coalition with a community group called Civic, at last won elections and formed the government with Jagan as President.
It took extreme commitment and dedication for Jagan to remain as Opposition leader for so long, and it reflects his earlier commitment in the Legislative Council at the beginning of his political career. For all that, one has to admit that his re-election might not have been possible but for the collapse of the Soviet Union at the end of the 1980s, and the disappearance of American fears of communism in the western hemisphere.
In 1992 the PPP/Civic administration faced a country which was racially more divided than ever, riddled with crime, and close to penury. Worst of all, it was a country from which tens of thousands of highly skilled and professional Guyanese of all races had fled during the Burnham terror. Foreign debts alone were said to total (US) $2.5 billion.
All this made it seem that Burnham's main contribution as head of government from 1964 to his death in 1985 was to transform democracy into kleptocracy; for the corruption was endemic in his administration, not to mention the rigged elections by which he secured power, was an open secret.
Facing such a massive depletion of national resources in 1992, Jagan attempted to reduce the nation's debts and the crippling interest payments that had to be made. Apart from some success in this, his administration has also presided over improved economic growth, increased wages, and the rebuilding of roads, especially the airport road.
So much unfinished business makes it appear that Jagan's career ended prematurely without him being able to accomplish all he wanted. It is true he was in opposition for more than half of his political career.
This leads his detractors to say that he has only himself to blame because he blindly pursued a Marxist-Leninist creed, and was often more concerned with global ideological matters rather than with the practical needs of Guyana. This confirms the old adage that a prophet is not without honour save in his own country.
A more reliable verdict on Jagan's career may be obtained from a comparison with South Africa's Nelson Mandela, whose career follows a similar pattern.
In 1964, the same year that Mandela was jailed, Jagan was manoeuvred out of power, and for similar reasons, namely, to avoid the spread of communism internationally.
When Mandela was freed in 1990, and Jagan allowed to win elections two years later, it was again for the same reason -- that the Soviet Union had collapsed and communism was no longer a threat.
The performance of Mandela after his release from prison, and of Jagan after re-election in 1992, confirm beyond any doubt that their detractors were wrong, and that they were not the power-hungry, blood-thirsty communist demagogues they were made out to be. They were victims of realpolitik, which places small nations completely at the mercy of larger ones. It has ever been so, and it has nothing to do with the particular merits of communism, capitalism, or any other "ism." The fact is that it was the high-minded sense of morality in Mandela and Jagan that made them victims in the raw and brutal world of Cold War politics that dominated most of the second half of the 20th century.
It is for his sense of morality that Jagan will most be remembered. He will also be remembered for his superhuman energy as an indefatigable traveller, inveterate speech-maker, and prolific author of books and pamphlets. His The West On Trial (1966) is the best work of political autobiography by a Caribbean author.
Not even his enemies can doubt Jagan's earnest commitment and tireless dedication to his cause. But there were flaws. He may sometimes have betrayed ideological inflexibility; and since hindsight has exposed us to the Burnham terror which was ushered in by proportional representation, we may now conclude that it was a mistake to allow Duncan Sandys, the British minister, to impose proportional representation for the Guyanese elections in 1964.
But years afterwards, when I asked Jagan why he had yielded to Sandys, he said he was afraid that if he had held out, the burnings, lootings, and killings of the early 1960s might have continued. His bottom line was always the welfare of his people.
His was a rare sense of morality, one that embraced all races, classes, colours, and creeds, and one that in a public life that lasted for 54 years, proved utterly incorruptible. That is the only sense in which Jagan was communist. Of how many other political leaders, in any part of the world, and in any age can that be said!
What Nehru said on the death of Gandhi may be repeated at the death of Cheddi Bharat Jagan: "the light is out."
May the ensuing darkness not last long, and may Guyana survive it!
---
No turning back after vow at Enmore gravesite
"...at the graveside the emotional outbursts of the widows and relatives of the deceased had been intensely distressing, and I could with difficulty restrain my tears. There was to be no turning back. Then and there I made a silent pledge: I would dedicate my entire life to the struggle of the Guyanese people against bondage and exploitation." The West On Trial.
By Dwarka Lakhan
So wrote Dr. Cheddi Jagan, the late President of Guyana in his autobiography, The West On Trial, in reference to the five sugar workers, known as the Enmore Martyrs, who were killed by colonial police on June 16, 1948.
It was the beginning of his fight for the people of Guyana -- one that lasted for almost a half of the century, until he died on March 6.
Now, as hundreds of thousands mourn his passing, it is appropriate to pay tribute to one of Guyana's greatest sons whose selfless struggle for freedom had no boundaries. In doing so, one must examine the enormous odds Jagan endured from the time he entered politics in 1945, up until he ceased being Guyana's President in 1997.
It is most important to understand the political underpinnings of his career in order to evaluate his economic contribution to a country that has lost its most respected leader.
Jagan's public career started in 1945, as treasurer of the Man Power Citizens Association (MPCA), a sugar union. In 1946, he formed the Political Affairs Committee (PAC), together with his wife Janet, Ashton Chase, and Jocelyn Hubbard.
The following year, members of the PAC, with the exception of Ashton Chase, contested the Legislative Council elections as independents.
Jagan was the one of three PAC candidates to be elected. He became a member of the Legislative Council of what was then British Guiana, on December 18, 1947.
Following the Enmore Martyrs episode, Jagan was incensed into a relentless fight on behalf of the sugar workers. He disassociated himself from the MPCA, and gave full support to the newly formed Guyana Industrial Workers Union (GIWU) which later became the Guyana Agricultural Workers Union (GAWU).
The MPCA turned out to be merely a facade for workers' rights.
It was GAWU that formed the backbone of Jagan's struggle against the colonial administration, and later on, against the dictatorship of Forbes Burnham.
In 1950, the PAC formed the People's Progressive Party (PPP) after recruiting Forbes Burnham in order to present a multi-racial front. Jagan was made the leader and Burnham the chairman.
The first elections under a new 1951 Constitution was held on April 27, 1953. The PPP won 18 of the 24 seats, with the only opposition party, the National Democratic Party led by Lionel Luckhoo, acquiring two seats by taking a strong anti-Communist position.
The PPP's victory allowed it to appoint six ministers to the colony's Executive Council. Jagan became the Minister of Agriculture and leader of the Legislative Assembly.
However, determining who will become leader of the legislature marked the beginning of the struggle for power between Jagan and Burnham.
The party's executive chose Jagan over Burnham, who had made a strong bid for the position.
Outside of the legislature, Jagan used GIWU to champion his cause for the workers. Burnham was also active among workers, and became President of the largest black-dominated union, the British Guiana Labour Union.
A Labour Relations Bill, that provided recognition for trade unions based on selection by a secret ballot, was passed in the House of Assembly on October 8, 1953.
The next day, the British government suspended the Constitution, and kicked the PPP out of office after only 133 days in office.
One of the main reasons for the suspension of the Constitution was because of the presence of communist elements within the PPP. Several party members, including Sydney King, Rory Westmaas, Martin Carter, Fred Bowman, and Boysie Ramkarran, were jailed without trial for being communists.
Cheddi and Janet Jagan were each jailed for six months for infringing emergency regulations.
In the meanwhile, Burnham, who was regarded as being a more moderate socialist, emerged relatively unscathed.
Burnham made another fervent attempt to become leader of the PPP by moving a no-confidence motion against the party's Executive.
Defeated, he formed his own faction of the PPP. Both factions contested the 1957 elections under the PPP banner, and Burnham was once again humiliated at the polls.
The Jagan faction won nine of the 14 seats. Burnham's, three seats.
The Burnham faction was renamed the People's National Congress (PNC) after the elections. From then on, politics in Guyana was dominated by race.
The 1961 elections were contested under yet another new Constitution. One more new party, the United Force (UF), emerged under the leadership of Peter D'Aguiar, who had earlier failed to buy specific concessions from the PNC to run under that party's banner. Jagan's PPP once again emerged victorious, with 20 of the 35 seats, while the PNC and the UF won 11 and four seats respectively.
By this time, the US government was becoming concerned about the spread of communism in Guyana, and used the Central Intelligence Agency to instigate strikes and civil strife. The US was hurting from its defeat by Castro at the Bay of Pigs, and then President John Kennedy had declared that there shall never be another Cuba in the Western Hemisphere. He was referring to Guyana.
The PPP's 1962 budget, which was drafted by the noted Cambridge University economist, Nicolas Kaldor, was used as the basis for the Trade Unions Congress (TUC) calling a general strike on February 13.
The riots that followed led to the burning of large sections of Georgetown, and several deaths.
Meanwhile, the British, influenced by the US, postponed independence talks mainly because it did not want to grant sovereignty to Guyana under the PPP.
Kennedy believed that "in a couple of years (Jagan) will find ways to suspend his constitutional provisions, and will cut his opposition off at the knees."
How wrong he was, because he favoured Burnham. And that was exactly what Burnham did after he attained power.
The introduction of a Labour Relations Bill by the PPP on March 25, 1963 set the stage for large-scale intervention by the CIA in Guyana. The TUC under Richard Ishmael received massive funding from the US-based unions to cripple the PPP government. The strikes ended after 80 days, with hundreds of dead and injured, and millions in property losses.
A British unionist, Robert Willis, sent to mediate the strike appropriately summed up the political undercurrents behind the strike: "(If) Dr. Jagan had called me and told me that the unions could write their own demands and he would agree to them, the TUC would still find reasons for not accepting them."
Pressured by the Americans, the British changed the electoral system to proportional representation for the 1964 elections. The PPP received 24 seats, the PNC 22, and the UF 7 seats.
Without a majority for the first time ever, the PPP lost power to a PNC-UF coalition.
The years between 1964 and 1992 are what many Guyanese would love to forget as the PNC sent Guyana into a state of mendicancy known only to the poorest countries in the world. Jagan remained in the opposition and carried on the fight for his supporters despite persistent fraudulent elections.
While most others would have quit, he never gave up.
When Jagan became Guyana's President in 1992 following the country's first free and fair elections in more than a quarter of a century, his dream was fulfilled. He had attained a position that was rightfully his since 1964. He immediately set out on a course of repairing a battered economy left by his predecessor.
His efforts have resulted in Guyana achieving among the highest growth rates in the world over the past five years. Economic and social conditions have improved substantially, and the stage is set for take-off.
During the 1954-64 period, when the PPP was in power, all the productive sectors in Guyana were performing at their peak. Agriculture, in particular, which is the most important sector in the country, received the budgetary support commensurate with its importance, and not because Jagan's supporters dominated the sector.
When the PNC reversed expenditure patterns in agriculture and allocated increasing funds to urban development and social services that were dominated by its supporters, Guyana's development was set in reverse gear.
Today, Jagan has left Guyana with its first-ever real development plan -- one that sets the course for the future of the country. His New Global Human Order demonstrates the integrity of a selfless and great leader.
Guyana has lost a true martyr who fought for its freedom. Indeed, the world has lost one its most insightful sons.
---
Section G
Commentary & Analysis
Guyanese-Trinidadian tells how Jagan changed his life
By Sandra Chouthi
Guyanese University of the West Indies (UWI) lecturer, Dr. Clement Sankat, believes he might have still been "locked" in a rice field if Dr. Cheddi Jagan had not come along.
Sankat was responding in Port-of-Spain to the March 6 death of Jagan at a Washington hospital after a three-week battle with complications from a heart attack.
Sankat, 46, grew up in 64 Village, Berbice, a rice and cattle farming village, while Jagan came from a sugar estate in Port Mourant. Thirty-two years and 30 miles separated the two men, but that did not prevent Jagan's politics from changing the younger man's prospects.
Today Sankat is a reader in Food and Agriculture Engineering here at UWI, St. Augustine, a Trinidadian citizen, and is married to a Trinidadian.
As a boy growing up in 120-acre rice farm in Guyana, he said his extended family -- father Henry, a teacher and a farmer; grandfather; and several uncles, raised 150 cattle, and about 60 sheep.
"My generation probably benefited from Jagan's advent in the political field. If someone like him did not come around in that time, I may still have been locked in a sugar estate or rice farm," Sankat said.
People like Sankat could not get into a high school before Jagan became Premier of Guyana in 1957.
"It was a class situation. You had to come from a cultured upbringing to get into Queen's College," Sankat said.
Jagan and the late Forbes Burnham attended Queen's College.
Sankat was one of three boys from Berbice County who got high enough marks in the Common Entrance to enter Queen's College that year. The school was an elitist, British-built grammar school supported by the Guyana government.
Class placed second to ability under Jagan's rule. He sent those students who could not meet the high academic standards to get into UWI or British universities, to such socialist countries as Russia, Poland, and Czechoslovakia to study medicine, economics, and management.
"He thought the potential of Guyanese had to be unlocked through first-rate education. When he came into power as Premier, he tried to dismantle relics of colonialism."
Sankat was only nine when he became aware of Jagan visiting his village to hold public meetings. He was ten when Jagan won the 1961 elections, with 20 out of 24 seats.
"There was a tremendous parade which passed through entire villages of Guyana. People walked about 100 miles," Sankat said. "It was a tremendous show of support for Cheddi."
Sankat left Guyana in 1969, but returned in 1973 at the age of 21 to vote. Recalling that election night, he said early results showed the People's Progressive Party (PPP) doing well in Georgetown, a People's National Congress (PNC) stronghold. Results stopped coming in at round 9 p.m.
Burnham then seized ballot boxes from electoral offices, Sankat said, and commandeered army personnel to take them to the central counting stations instead of letting them stay at the polling stations. Villagers formed human blockades. There were more votes cast than people in the electoral list. Burnham won.
"People like myself were particularly incensed. Two villagers who lived opposite me were shot and killed. (Burnham) won the elections handsomely, but gave himself the numbers."
It was cheated, not defeated.
Sankat said Jagan still has a dedicated "army" of supporters like his Uncle Issac, who works in the village council as Deputy Regional Chairman. He rises at 5 a.m. to till rice fields, and still raises cattle.
"In the 1960s, Guyana's rice industry blossomed because of Cheddi Jagan's direct involvement. It wasn't handouts. It was giving people the means and support for production and allowing them to move with it," Sankat said.
"When Burnham came into power in 1964, he dismantled that."
His own family was able to borrow from private banks to buy self-propelled combines, tractors, and pumps. He organised rice farmers to take control of machinery and the industry.
"From 1992, Guyana was exporting rice and sugar more than ever before. He empowered the people again."
Sankat left Guyana in 1969 when he came to study engineering at UWI in Trinidad. He and other Guyanese nationals living in Trinidad saw much of Jagan between 1989 and 1992 -- when he was elected president -- during stops he made en route to the north. He was campaigning "intensely" for free and fair elections in Guyana.
"It was a cause in which most Guyanese joined, irrespective of political persuasions. He was really hoping we could all put pressure on the regime," Sankat recollected.
"People by and large understood what he was saying and supported his cause. The governments (of the region) turned a deaf ear."
Jagan was naturally drawn to Trinidad and Tobago partly because Indians in both countries make up almost half the population, Sankat said.
Also, now-Prime Minister Basdeo Panday and Jagan shared many similarities: they were both Opposition leaders for many years; both leaders of sugar unions; both published union newspapers, Jagan the Mirror and Panday the Vanguard; and both ended up as rulers of what Sankat described as "Afro-centred" countries.
Jagan came to Trinidad about three times a year to raise funds -- a lot of funding for the PPP came from Guyanese migrants -- and to mobilise his PPP.
Those supporters included Bal Persaud, a UWI librarian; Charles McDavid, now the Dean of Agriculture; and Trinidadian Historian Dr. Brinsley Samaroo.
"These were groups of Guyanese devoted to the principle of free and fair elections in Guyana," Sankat said. "When Cheddi passed through, he met with us."
The patriotic group organised meetings, sometimes with the assistance of the Oilfield Workers' Trade Union, and Panday's All Trinidad Sugar and General Workers' Trade Union, on campus and at private homes.
"Guyanese rallied behind Cheddi because of his sincerity," Sankat said. "It was not an Indo-Guyanese thing, not an Afro-Guyanese thing: it was all of us in this together. The sensitivity of Trinis helped to apply pressure."
Today, his sadness at the passing of Jagan is mixed with an anger he, and thousands of other Guyanese feel, having been "displaced," all because of 25 years of Burnham and PNC rule.
And in an evocation of Panday's recent return as a lost son and stranger to relatives in Lakshmanpur, India, Sankat said to go back to 64 Village, Guyana, where a wake was kept each night since Jagan died, would be to experience a similar, strange, and tearful arrival.
In the 1970s and early 1980s, almost half a million Guyanese left Guyana. Many were like Sankat, who felt their lives were going to be "trampled (on) and marginalised." His immediate relatives are scattered around the world.
"There's a saying: 'Guyanese voted with their feet,' meaning they left the country. They lost faith, gave up hope. Today more (Guyanese) people on Liberty Avenue in New York know me than in my own village," he said.
---
Jagan's greatest creation was the political machine
By Ramdath Jagessar
Most of those paying tribute to the late Cheddi Jagan will focus on his huge achievement as a statesman, an anti-colonialist leader, and political survivor.
And they will be right. Cheddi was a legendary revolutionary leader and charismatic figure who endured 28 years in the wilderness before making a triumphant comeback in 1992.
Not too many will know that Cheddi's greatest creation was not himself, but the political machine that dominated Guyana's politics from 1950 to the present day. The People's Progressive Party (PPP) was, and is, a marvel to behold.
During two visits to Guyana in the early 1970s I had the chance to take a good look at the PPP, which has had only Cheddi as its leader these past 47 years. He stood at the top of the pinnacle, but below was a mighty and most impressive structure.
For a start, the PPP had a structure. There was a youth wing called the Progressive Youth Organization, with branches everywhere. Full time youth organizers with motorbikes or bicycles fanned out to keep the youth movement going.
The party had a women's league, organized in the same way as the youth, and working on the principle of equality for women. Regular PPP party branches lived in almost every village in Guyana, and even in the jungles where the Amerindians lived.
There was a group of parliamentarians and municipal politicians, and at the top the party executive, headed by Cheddi himself. To operate in this party you had to work your way up and prove yourself at the lower ranks. There was no way you could jump into this party as a novice, and get to the top ranks.
The PPP owned a department store, which stocked items imported from socialist countries, and a chain of bookstores. There was also a daily newspaper, which like the other businesses, employed party people.
The PPP owned vehicles, buildings, and ran an intricate system of communication and training.
They had their groups to organize demonstrations, to mobilize the Amerindians, singers and entertainers, security people, and a massive web of international connections. The annual party convention I attended had delegates from countries all over the world and messages from many more.
What blew me away was their ideological college. It trained members in the party's policies, published a monthly magazine and interpreted international and local events for the party. The PPP ideology was a clearly defined Marxism-Leninism, with its policies on philosophy, organization, art, and everything else.
When I saw it the PPP had been out of power for nearly ten years, had suffered grievous persecution from Forbes Burnham and damaging defections. But it operated almost like a government and continued in that way for another 20 years.
Cheddi continued to be the most visible face of the party, making his wonderful speeches and travelling the world. He could only do so because of the solid work done by the party.
When he was thrown out of power by the combined forces of the British, Americans, and Forbes Burnham, the PPP did not immediate begin to fall apart. It carried on operating and pressuring the Burnham government that had all the resources.
It survived the race war that tore the country apart. And for 28 years the PPP continued to replace lost leaders, recruit new members, and deliver votes in one rigged election after another.
Burnham hated and envied the PPP. Not even his most vicious pressure and intimidation could break the party. He tried to build his PNC into a competitor, but not even the public treasury could make his party into a real rival of the PPP.
Look at what has happened to the PNC in the five short years since they lost power. It is a pathetic shell with little reason for existence, carrying on mostly as an election party. It will be a miracle if the PNC survives another five years in the wilderness.
Those of us who come from Trinidad cannot begin to understand what kind of structure Cheddi and those early leaders laid down for the PPP. The parties we know are hastily assembled by ambitious people with the main aim of winning seats in elections and little else.
In Trinidad, the People's National Movement has no more of an ideology than delivering power to its supporters, and it barely sustains a structure and administration. The old Democratic Labour Party and its successor United National Congress are also basically election parties that fall flat between polls.
Organization at the grassroots level is primitive or absent. There is no system of political training, or any serious way of grooming party people through the ranks. Youth league, women's leagues and the like may exist, but they are paper-thin contraptions.
Rank greenhorns jump into the party, are nominated to contest elections and sometime make it to high office. If the party does not win political power, the structure melts like butter in the sun.
That's the kind of political party we know in Trinidad, and in most other Caribbean countries. And those are the "good" ones. Others flare briefly only at elections and then are seen no more, while yet more struggle vainly in the background and then fade away.
Cheddi's PPP stands like a colossus in comparison to those puny creatures. It has survived nearly half a century of glorious high points and crippling low ones, and will continue despite the death of its founder. To me, that is Cheddi's real legacy for Guyana beyond what he achieved as an individual.
---
Guyanese must reflect on Jagan's self-less dedication
By Peter Jailall
Dr. Cheddi Jagan, the charismatic dentist-politician, walked with the Guyanese people on nearly every road in Guyana for nearly half a century, taking his message of Peace, Progress, and Prosperity.
It was in June, 1948, at the gravesite of the Enmore Martyrs that he quietly pledged to dedicate his life to further the cause of ordinary people like the sugar workers.
Jagan had already witnessed oppression, first at Port Mourant as the child of sugar workers, and later in the US, where he studied. There he had lived among poor Americans, Black and White.
Those experiences made him take a stronger stand on the side of the poor and marginalized.
On his return to Guyana as a dentist in 1943, he distanced himself both from the League of Coloured People and from the British Guiana East Indian Association, organizations that did not advocate on behalf of the poor and disenfranchised Guyanese.
Since 1947, Jagan championed the cause of the sugar workers because they were the most oppressed at the time -- without a union, without a party, and without an identifiable leader.
He built his political base among them. It was the sugar worker's heroism, their determination to fight oppression, and their loyalty to Jagan that made him such a great leader.
They gave him courage and energy to carry on, and in return, he gave them life-long service and dedicated leadership.
The sugar workers and their children will never forget 'Doc.'
They will remember the long journey he walked with them. They will remember how he improved their living conditions from 'logie' to high house in the housing schemes. They will remember him for providing them with electricity and running water.
How can they forget the schools, the roads, and the health centres he built? He was their master builder.
He sent their children abroad to become doctors and engineers. He transformed the ordinary into accomplished and astute politicians.
They will remember him as their great teacher. He taught them about their rights, using the cup as their symbol, so that those who could neither read, nor write would be able to vote easily.
He educated them through the print media -- the Mirror and Thunder. Many were enlightened by his regular column, 'Straight Talk.'
Each household in the estate bought a Mirror and Thunder, demonstrating total loyalty to the People's Progressive Party.
The sugar workers taught their children to garland him when he arrived on the estates. The 'mala' became a symbol of endearment and affection. Many grateful sugar workers fell at his feet, Indian-style, but he stopped them from doing so. To them, he was like Gandhi, Mandela, and Martin Luther King combined.
They composed songs and poetry about him: 'Doctor Jagan, Cheddi Jagan,/The one and only -- God Save Jagan.' Streets and children are named after him.
Some of the 'upper class' Indians and the Anglicized Africans hated Jagan, and the 'estate coolies' that he represented.
But for 50 years, he never abandoned the sugar workers. He waited and he waited until he became President in October 1992.
The people at Enmore will remember the grand political meetings at 'Mongoose Square.' They will remember the Old Matya where the strikers were fed. They will remember the "Dacta" with strings of colourful 'malas' around his neck. They will remember the man who looked after "their business" in Georgetown.
Jagan may be dead in body, but his teachings, his easy infectious smile, his inspiration, and his spirit will live on in the souls of future generations. They will never forget him.
On Tuesday, March 11, 1997, 11 days before his 79th birthday, he took his last journey along the East Coast Road to his birthplace, Port Mourant, where he was cremated.
On the long road to Port Mourant, he body made the last stop at the Enmore Martyrs' Monument.
As his ashes are returned to Mother Earth to further nurture and nourish Guyana's soil, Guyanese must reflect on his selfless dedication and his life's work, which must be continued.
Guyana and all Guyanese must never forget that the soil they walk on now cradles the remains of a man who dedicated his life to their cause, and who died as he lived, a fighter to the end.
---
Aura of incorruptibility marked this distinguished son
By Bernard Heydorn
At 12.33 a.m. on March 6, 1997, a precious jewel of Guyana departed this world. Like the star of the morning, Dr. Cheddi Jagan guided Guyana to the dawning of Independence in 1966, and in its aftermath, valiantly fought to improve the lot of the working poor.
Ironically, the Caribbean suffered a double loss on that same day, when Michael Manley, the former Jamaican leader and a fellow socialist, also passed away.
I am not prone to praise politicians who by and large devote themselves to self-aggrandizement, but Jagan was an exception.
Through his long, distinguished life, this son of indentured plantation workers had an aura of incorruptibility. He was known as a political survivor, a populist, a Marxist, a charismatic figure whom I believe history will judge kindly.
The same cannot be said for his one-time colleague, the self-appointed Guyanese President for life, Forbes Burnham, whose name is rarely mentioned today by Guyanese, except as a quiet obscenity.
Jagan's political star dawned on the Guyanese horizon over 50 years ago in the late 1940s, incidentally not far from where I was toddling around at Robb Street, Bourda, in Georgetown, when the newly formed People's Progressive Party (PPP) held some of their first public meetings.
My next recollection of Jagan was during the turbulent, pre-Independence 1950s, when I lived with my family in New Amsterdam, and British troops were sent to what was then British Guiana. There was heightened political activity at that time as three political parties emerged -- Jagan's PPP, symbolized by the cup; Burnham's People's National Congress (PNC), symbolized by the broom; and Peter D'Aguiar's United Force (UF), symbolized by the rising sun.
In the end, Burnham installed himself as a dictator, using the minimum force required to subjugate the most, and for decades, the broom swept hundreds of thousands of Guyanese, including many PNC supporters, to all ends of the globe and beyond, most of whom would never return to their beloved homeland, as they voted with the feet!
Jagan had to face formidable opposition during the Cold War years, for the forces of British colonialism, American imperialism, and even at times the Churches, were marshalled against him. Slogans such as "Better Dead Than Red", and "The Cup Is Poisoned" rang out in Guyana.
Through this all, this son of the soil weathered the storms with equanimity, and like Nelson Mandela, lived to rise from the ashes. He fought for over 50 years, 28 of which as leader of the opposition (a Guinness Book of Records achievement), returning to power toward the end of his life, and calling for a new world order with is last breath.
I met Jagan just once, last year at York University. He shook my hands warmly as I stood there tongue-tied. He talked, and as he spoke, I was impressed with his concerned, down-to-earth manner, a true Guyanese in every respect.
He had admirers worldwide, including of all people, my elderly mother-in-law, Agnes Niles, and Englishwoman who lives in Manchester, England. Agnes has been a fierce fighter for a renewed social order all her life, and in fact attended the first Pan-African Congress, opened by Jomo Kenyatta, in Manchester, England, in 1945, where "the cause of subject people with little freedoms" was debated.
Jagan's legacy, I believe, is that he resisted the temptation to use the race card, which bodes well for the future of Guyana and the entire Caribbean. Although his life and work will never be fully acknowledged in countries like Canada, which paid scant attention to his passing, reflecting mainstream attitudes towards citizens of countries like Guyana, his call for a New Global Order of democratic socialism, of the redistribution of the world's wealth, of resistance to unbridled capitalism, has found support in many quarters, including the Pope.
Some people might say that Jagan has made full circle, but perhaps it is we who have made the circle, for Cheddi Jagan never really shifted from his life-long vision of a better life for the working masses.
Ironically, the Americans who haunted him for most of his political life, cared for him in his last days in hospital, and gave him a 21-gun salute in Washington, D.C., as his body left for Guyana.
I pay tribute to the man and his times. It is the passing of an era, a historic time, not the best of times, nor the worst of times, but a historic time, never the less.
There is a lesson to be learned from this. We have only one time, this time, before we go to face the eternal, and Jagan showed us how a single life can count.
Cheddi has gone to take his place in the crown of the Almighty, an Almighty he may have doubted the existence of, especially when he saw the mess here on earth. In the Almighty's crown he will shine brightly with all the poor ones, all the dear ones, all the precious ones he loved as his own.
I salute you, Dr. Jagan!
---
Indo Caribbean World
312 Brownridge Drive, Thornhill,
Ontario. Canada. L4J 5X1
Publisher: Harry Ramkhelawan
Editor: Romeo Kaseram
Telephone - Voice 905-738-5005; Fax 905-738-3927
E-mail: romeok@globalserve.net
---
Next Issue: March 19th.
---