A new look at old Georgetown
[From the archives of Pat Savory]
---
Posted March 27th 2008
These pictures were sent to me in an email. I thought I will put them together for others to view.
An 1888 drawing showing the intersection of High Street (a.k.a. Avenue Of the Republic) and New North Street (a.k.a. Company Path), Georgetown. On the left is the Hand-In-Hand Fire Insurance Co. building, with the old post office tower in the background. On the right are the Assembly Rooms. (The Post Office and the 'Assembly Rooms' were destroyed in the 1945 great fire). The Bank Of Guyana and the Georgetown Museum are now located on the site previously occupied.
OLD GEORGETOWN


An engraving of Water Street - Georgetown, by Milton Prior, published in the Illustrated London News on April 23rd, 1888.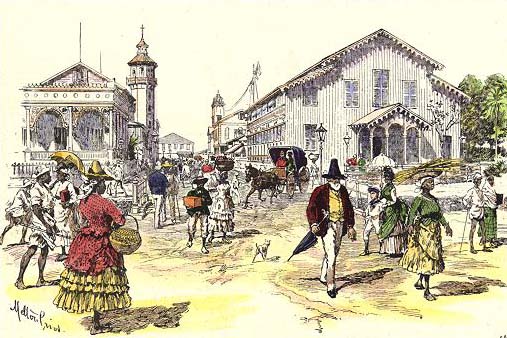 GEORGETOWN STYLE - 1941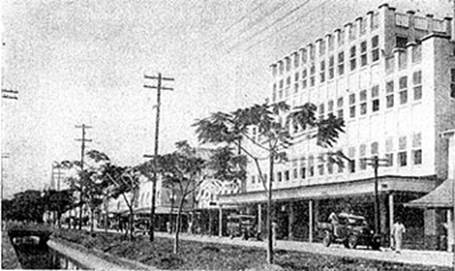 Central Garage, High Street


Hand-in-Hand Fire Insurance Building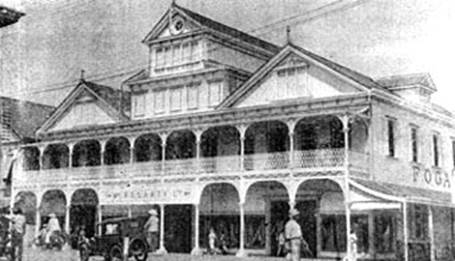 Wm. Fogarty, Ltd, Water Street


Wm. Fogarty Stationery & Book Store, Water Street


Booker Bros., McConnell & Co. Ltd., Water Street, Georgetown.


Wm. Fogarty, Ltd., Head Office & Wholesale Dry Goods Dept.


Sandbach, Parker & Co., Ltd., Head Office & Hardware Store, Water St.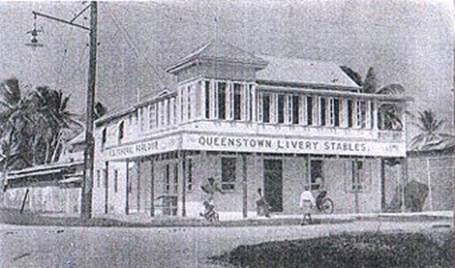 Queenstown Livery Stables & Funeral Furnishing Parlour


B.G. & Trinidad Mutual Fire Insurance Co. Ltd. Robb & Hincks Streets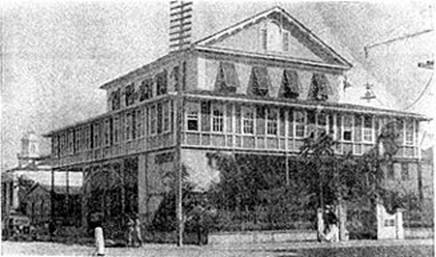 The Royal Bank Of Canada Water & Robb Streets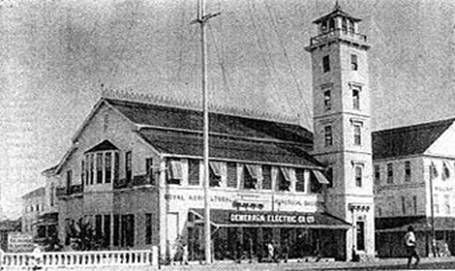 Demerara Electric Company Ltd. Church & Water Streets


The Tower Hotel, Main Street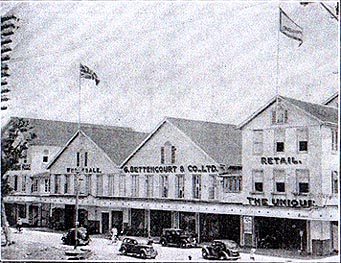 G. Bettencourt & Co., Ltd., Water Street.


Bookers Drug Store, Church & Main Streets

ARCHITECTURE
Photographs circa 1960 - Taken by the "ROVING" J.P. Ferreira.
It is said that J.P. Ferreira went nowhere without a camera and would spend hours in front of a building waiting to get the right cloud behind the building. There ia a lack of people in most of the photos because they were taken on Sunday mornings, when most people were at home enjoying their breakfast.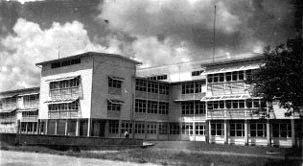 Queens College Thomas Lands(destroyed by fire - 1997)


Bookers Head Office, Water Street. (destroyed by fire - 1962)


Georgetown Cricket Club Pavilion - Bourda


Bettencourts Unique, Water Street (destroyed by fire)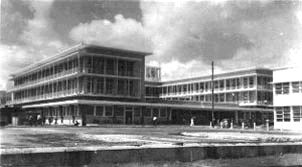 Georgetown Main Post Office, Company Path


The Park Hotel, Main Street (destroyed by fire 2001)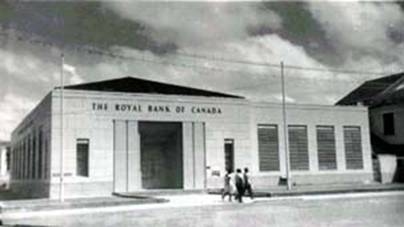 Royal Bank Of Canada - Water Street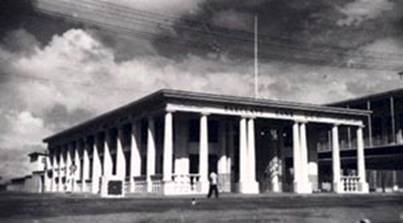 Barclay's Bank D.C.O. - Water Street (now renovated beyond recognition)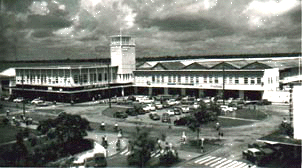 Sandbach parker & co. Ltd. - Water Street (destroyed by fire Dec 18, 2003)


Wm. Fogarty Ltd. - Water Street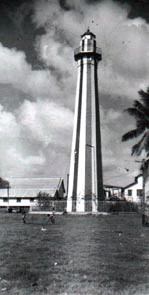 The Georgetown Lighthouse - Kingston


St. Andrew's Kirk - Brickdam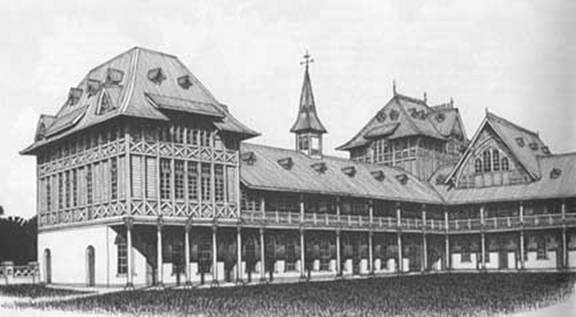 Charlotte Street view of the High Court (formerly named The Victoria Law Courts)


A typical Georgetown "cottage". Note the steep roof, designed to handle the heavy water run off in the rainy season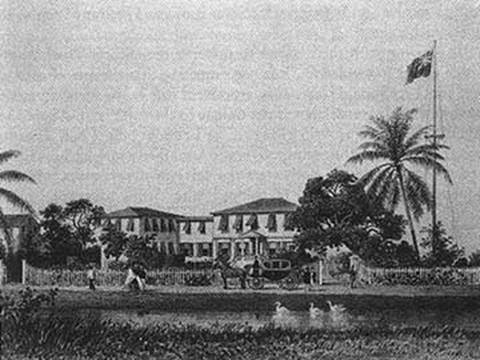 Government House - When the entrance was on Carmichael Street (instead of on Main Street), and when a canal ran down the middle of the street


Camp Street in its hey day. Flamboyant Trees lined the avenue, and parapets were neatly trimmed. Two different designs of Georgetown homes can be seen in the background. The galleried 'Demerara cottage' on the right hand is now 'long gone'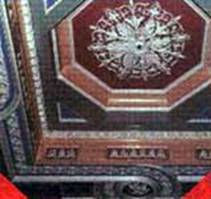 Detail from the coffered ceiling of the Guyana Parliament Chamber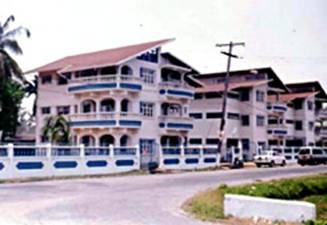 Fulton Court Hotel - Georgetown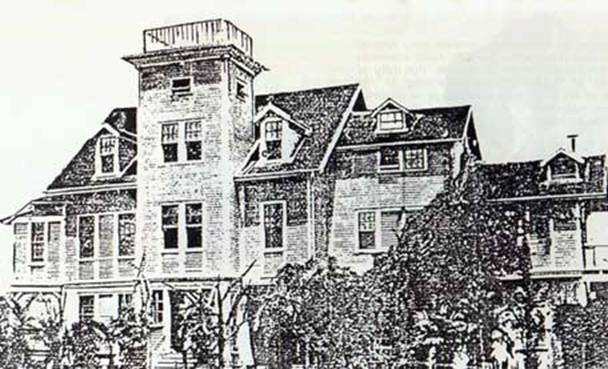 Castellani House Original design by Cesar Castellani - 1882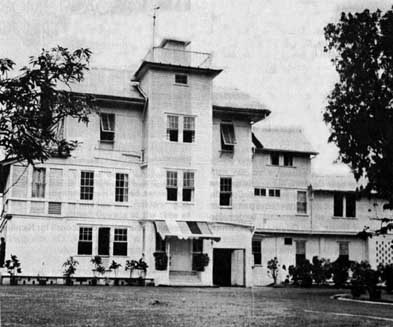 Castellani House Residence of The Prime Minister - 1965


Castellani House Home of the National Art Collection - 1993
---


This page is part of Guyana News and Information.
© Copyright (http://www.guyana.org)