Nabaclis, Leonora, Pomeroon, Wakenaam, Leguan
The world beyond Georgetown: Leguan
Stabroek News - November 7th. 2010
Easy-going, independent and hospitable are only some of the words used by Leguan residents to describe themselves.
The MV Malali moored alongside the Leguan Ferry stelling during a recent trip to the island. The ferry sails to the island on alternate days.
Leguan, one of the few inhabited islands of the Essequibo, sits squarely in the mouth of the river, a relatively short speedboat ride from Parika.
While the population of the villages on the island has fallen in recent times, the people who remain have been making the best of what life has to offer there.
Cash-crop farmer
Standing in his small cash crop farm recently, farmer Lennox Baggot told Stabroek News that most persons on Leguan were self reliant, and that the island was one of few places where "you could leave you doors open and sleep comfortable, day and night."
He said that his community of Amsterdam, which lies on the eastern tip of Leguan, was predominantly a farming area, with several rice and cash-crop farms situated in its environs. In his younger days, he said, he never envisioned being a farmer, but "due to circumstances" he became one.
Lennox Baggot stands among his boulanger plants which along with calaloo he supplies on a large scale to vendors on the island and at Parika.
"I started out planting different things…" he told this newspaper; "I use to plant tomatoes, pak-choi, poi [calaloo], boulanger and cassava," but only a few of those "stand up in the soil." He said that as time went by, he observed that boulanger and poi were the only crops which flourished, and as a result he decided to concentrate on planting these alone.
Baggot related that he lost his parents and a sibling when he was young, and as such the need to be independent fuelled his determination to toil in his two acres of farmland daily. He said that a market for his crops was readily available at Leguan, as there were persons on island who purchased his produce in bulk for resale, mostly at the Parika market on the East Bank of the Essequibo River.
He explained that he learned to use chemicals on his own; "I would seek advice from people who know about farming and over time I get to understand my planting methods." Asked whether he seeks assistance from the authorities, he responded that he never had to rely much on help "from outside," but if the need arose he would gladly accept. Baggot has been a farmer for a number of years, and he is one of many on the island who have resorted to taking up this occupation in the absence of jobs.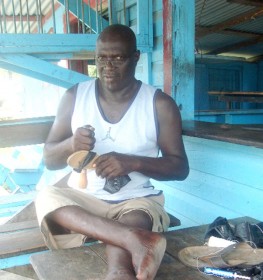 Derek James, Leguan's well-known cobbler, repairs a pair of shoes.
Cobbler
Seated outside his stall at the entrance to Leguan is Derek James, the self proclaimed "only cobbler" on Leguan. James, who is differently-abled as he was struck by polio as a baby, told Stabroek News during a recent visit that he makes leather shoes, bags and hats for a living. He noted, however, that shoe repair is his main area of expertise, remarking that he started out as a "flat foot… about 20 years ago."
He said that he decided to become a craftsman, since "I noticed Leguan ain't got anybody fixing shoes." Born and bred on the island, the 49-year-old James said that early into his career, he decided to put up a notice at his shop, and as time went by he became recognized as the island's cobbler.
Giving his thoughts on life on the island, James noted that the area was "relaxed," adding that the islanders were always looking out for their neighbours. He described the economy as "slow," but he qualified this by saying that there were times when business there moved apace. As far as he personally was concerned, James said that each day customers would approach him to fix their shoes or to design footwear, "so I always have an opportunity to survive." He described the location of his business at Enterprise, close to the entrance of Leguan Ferry Stelling as "perfect" for business.
Cattle-farmer
While rice-farming is considered the main economic activity of Leguan, cattle-rearing is beginning to take "centre-stage," according to Success resident, Mohammed Ramzan, a rice and cattle farmer.
The recently rehabilitated Leguan Post Office. The Guyana Post Office Corporation stated in a press release that extensive renovations had been undertaken on the building because of an infestation of termites and bats.

Ramzan told Stabroek News that his rice business had suffered greatly in recent times, with the price for paddy being the main issue. He said that the preparation for the crop, employment of a number of persons to plant paddy, as well as transportation costs had seen him losing.
He went on to say, however, that cattle-rearing had become his main area of focus, and that as many as 50 head of cattle were shipped off the island on a daily basis. They are transported to the nearby Parika market, the Essequibo Coast and Bartica.
Ramzan observed that rearing the animals had its ups and downs, with the availability of a vet being one of the issues affecting farmers. He said that the government-employed vet would travel to the island once a week and while he did an "excellent job," there was need for more vets. He said that if a vet were placed permanently at Leguan, the farmers there would be delighted.
He said that persons travelled to the island to order and purchase cattle, but although the market was available, there was a problem of payment, since cattle farmers would at times have to wait weeks before they were paid.
As regards life on the island, Ramzan too described the islanders as generally "relaxed people," although sometimes residents would feel neglected by the authorities. He said that if more focus were placed on the creation of jobs, improved sea defences and better maintenance of roads, "a lot of people would come here just to tour the place."
These two lads, both students of the Louisiana Success Primary school
at Leguan, cycle home during the lunch break last week.
Tourism potential
Ramzan is not the only islander who thinks highly of Leguan's tourism potential.
Shopkeeper Dularie, who has been vending close to the entrance of the ferry stelling since the early '90s, was of the opinion that there were a number of places on the island which offered scenic views. One she identified was the beach near the village of Canefield on the eastern side of the island.
Each year at Easter time and Emancipation, she said hundreds of persons, many of them non-islanders flocked to the area. She said that with improved infrastructure, many persons would visit places around the island "just to enjoy the scenes."
The Leguan Cottage Hospital
Leguan, which is populated by approximately 5000-10,000 persons, can be accessed by boat from nearby Parika. The speedboat fare to and from the island is $1000, but the unavailability of passengers would at times see the fare climbing to as much as $3000 per person.
At the moment, there are two private hotels on Leguan, but recently one of the businesses temporarily closed its doors, owing to a lack of customers. At the same time, a number of persons who migrated from Leguan to live overseas, have returned to live out their golden years there.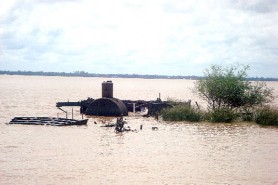 And according to octogenarian, Carla Ambrose, while the island has seen many changes in recent times, "the public will in time see the full potential of Leguan."
The remains of a ship which Leguan residents say brought the Indian indentured labourers in 19th century, lies off the foreshore on the western side of Leguan. Residents told Stabroek News recently that vandals have begun to cut off pieces of the metal for resale to the scrap iron industry.
---
Wakenaam: An island of cycles and motorcycles
Stabroek News June 23rd. 2002
Text and photos by Achal Prabhala
Wakenaam sits in the mouth of the Essequibo river, and is one of the three large islands there. The Dutch first occupied this island in the eighteenth century, and their legacy is visible in the names of some of the villages. Farming is still the main occupation on this island with a population of roughly 13,000. Small-scale farmers grow fruits and provisions, while the larger-scale farmers grow rice and coconuts.
Wakenaam is roughly 17 1/2 square miles in area. Its populated villages are: Good Success, Sans Souci, Melville, Belle Plaine and Sarah. Less populated are the villages of Maria's Pleasure, Zeelandia, Friendship, Bank Hall, Meerzorg, Caledonia, Free and Easy, Arthurville, Palmyra, Maria Johanna, Domburg, Fredericksburg, Noitgedacht, Rush Brook and Ridge.
While most of the island's population (about 75%) is of East Indian descent, there are several villages which are peopled by those of African descent. Within the East Indian community, it seems that Christianity is more the norm than Hinduism or Islam, though the landscape is dotted by the presence of a few mosques and mandirs, in addition to the many Christian churches of all denominations.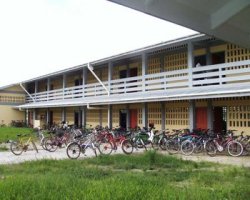 Front view of Essequibo Islands Secondary School



Ridge Primary School: crumbling into disrepair but kept going by its teachers and students
While agriculture and farming are the mainstay for the majority of Wakenaam's population, there are a few engaged in business and commerce, particularly around the areas near the stelling, in the villages of Sans Souci and Melville. While there is no established market, trucks ship out goods to people in the interior of the island on a regular basis, and shops near the deck sell a variety of consumer goods.
A common complaint is the exorbitant price of goods and commodities. The citizens of Wakenaam complain that as they live on an island, and depend on transport to bring anything in, it is very expensive to shop locally. The cost of transport being high, it is factored in to the prices of essential goods, and makes it difficult to subsist. Yet, they complain, that shipping on government steamers and ships makes little sense as it is even more expensive than the private system, and also harder to get space on.

Similarly, transport within the island is difficult. When it is available - which is rarely - it is much too expensive to use on a regular basis. A resident of Noitgedacht complains that a two-mile ride to the hospital would cost about $800 by minibus, an exorbitantly high price to pay by any Guyanese standards. Consequently, education becomes a problem, when children find it difficult to get to school, having to dodge the ditches on the road, and brave the rain.

A slow success: schooling in Wakenaam
The only secondary school in the island of Wakenaam is buzzing with activity. It is 8:00am in the morning, and students are furiously cycling in. The headmaster arrives in a car, with bundles of test papers. A bell rings, and classes convene. The noise subsides.

Jaidat Persaud, the headmaster of the school, located in Sans Souci, is pleased with the way things have turned out. Established in 1970, the Essequibo Islands Secondary School now churns out up to 70 graduates a year. Apart from Wakenaam, the school also serves students from the 'feeder' islands close by. Persaud feels that as a result, the school's resources are stretched and he is able to take in far too few students, indicated by the fact that the whole island of Wakenaam has as many as six primary schools.

Yet, he is proud of its recent successes, like, for instance, being adjudged the best school in Region 3 (West Demerara/ Essequibo) for an average of 85% marks in the CXC examinations, in 2001. The school regularly participates in sports tournaments, travelling into Georgetown and beyond to compete in such sports as soccer, tennis and cricket. Education and career patterns, he says, are most often shaped by the parents of his students, who are usually coconut or rice farmers. He notes that there is a serious desire in people to better themselves, but understands that some students - who do not find academics easy - would want to opt out of school (at some stage) due to the difficulty of the situation (reaching the school, staying there, affording the clothes and time).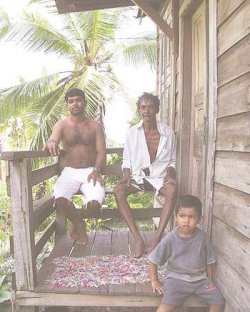 Three generations of the Binda family, farmers in Arthurville, sit by their door
Persaud says that out of 70 students who leave each year, only 20 will move on to a graduate degree at the University of Guyana. The remainder will opt for non-university training, at technical institutes and colleges, or directly enter the job market. Like other small places, Wakenaam too sees its fair share of migration. Most people leave for Georgetown, and this is understandable, Persaud says, given the opportunities available there, against the limited economic output of an island like Wakenaam.
The success of this secondary school is matched off against the crumbling, dilapidated structure of the primary school at Maria's Pleasure. Parents of students complain that when it rains, the school gets flooded. "There is not a single space inside the building," says a member of the community, "which remains dry." Students run around the grounds, then settle down for classes, which are all convened in one large building that has no partitions between classes. "The real problem," says a parent, "is that the Parent-Teacher Association needs to be revived. The school has to fight for its rights. We have to constantly remind people that we need help. We have no representation."

Living off the land, barely
Camille, a resident of Noitgedacht, and a single mother, runs a small provisions farm on her lot of land. Primarily, she grows fruit: plantains, bananas and cashewnuts. There are about 150 families, she says, between the two villages (Arthurville and Noitgedacht), separated by a small trench. She talks of the market, which is tough. Since she (like many farmers around) prefer to sell wholesale in places like Parika, rather than directly to consumers at home on the island, that means paying for transport to get to the coast.
Camille's plot of land measures about 600 x 36 feet. On it, she grows provision crops, but worries that the way prices are going, it may not any more be profitable to live by farming alone. She is used to the system of half-day power (in this case, from 4:00 pm to 8:00 am), and adjusts her personal and professional activities around it. She distinctly remembers her village getting electricity in 1979, and doesn't particularly suffer from the lack of running water (when there is no electricity) as she has built herself a pond, plus a trestle, on which she keeps large amounts of water stored.
Camille talks of how she has been "blessed by good health." Neither she, nor her children, have ever been to hospital with a serious problem. The doctor from the one hospital on the island (in the central, populated area around Sans Souci) comes around there at least once a month. Plus, there is a small Outdoor Clinic in Noitgedacht, which serves basic medical needs. All the treatment, including the drugs, is free of cost.
A farmer in Ridge displays a pumpkin with fungus: the pumpkin crop this year has been entirely wiped out by this fungus, causing
millions in losses for farmers.
'Oscar' Indar Binda is a retired farmer, who started life as a labourer on other people's farms. Binda used to climb coconut trees to pick the fruit. He has reared eight children here, five sons and three daughters. His family returns every now and then to see him, he says, as he relaxes on the front steps of his wooden home. Yuvraj Binda, his youngest son, smilingly talks of his life on Wakenaam Island. He is a carpenter, and helps contractors build homes. Of late, he isn't getting much work, due to both the economy, and the rainy weather.

The Binda family thus resorts to farming as a subsistence staple. Yet, the falling prices of fruits and vegetables have meant less money coming in from that effort. Yuvraj would like to go to Georgetown, but cannot think of how he will manage there, without the money to set him up in a stable profession, and without family contacts to support him. He can see the limited work opportunities available to him in Wakenaam, but yet, there is a fondness and love for this island that he grew up in.

"Most young people just get out of here," he says. The lack of telephones is a major drawback, especially for a freelancer like him. No one can contact him, and he has to trudge all the way to Belle Plaine (a few miles away) to make calls. It is also fairly expensive to make calls out of Wakenaam, there being only very few telephones there at all. He wishes instead, that there could exist something like a community telephone, one for every few homes, which would save him this travel, expense and discomfort.
Bill is a processor of coconut oil, in the village of Maria's Pleasure. He employs three women in his business, to cut down the coconuts, and extract their flesh. The work of producing (crude) coconut oil is intricate and hard: first, the coconut is peeled. Then, the flesh is crushed. This is left to sit in barrels overnight, after which it is boiled, to separate the oil from the husk. Bill talks of the days when he could make good money on coconuts. Now, he says, he makes as little as $500 profit on every 1000 coconuts cut. Each day, he and his team are only capable of processing about 2000 coconuts.

Bill blames the falling prices in coconut oil on unregulated imports, which did not seek to protect a domestic industry. There are other, simpler reasons, why occupations in farming - like growing rice - are not working. Either there are no kokers for rice fields, or, as in the case of the rice plantations around Maria's Pleasure, one koker, wrongly built, appropriates water away from where it should be sent, thus turning what were once rice fields, into barren grazing grounds for cattle.

Ridge: Five years on, still no roads, electricity or post
When Stabroek News last went into to the village Ridge, in 1997, plans were afoot to improve the road leading in to the village. In 2002, five years on from Cheddi Jagan's visit there, nothing has been done. The road leading in to Ridge is still not navigable by car and minibus, indeed, they refuse to go right through for fear of getting stuck. The only way to approach is by motorcycle, cycle or tractor. Postal services, which were discontinued in about 1984, have not resumed. Electricity has never touched this village. Needless to say, telephones too, do not reach this end of Wakenaam Island.

Approximately 50 families live in Ridge. Lionel, Edward and Neville are three brothers, who have lived here all their lives. They have farms, where they grow plantains and pumpkins. In their home, a huge tractor sits waiting - idly - since they have just discovered a fungus on their pumpkin crop, which prevents them from doing any further harvesting. It is possible that their entire crop has been damaged by this fungus: other farmers in the area, they say, have been similarly affected.

Edward, the eldest of the three brothers, went in to Georgetown last week, to try and sort out this problem at the National Agricultural Research Institute (NARI). They gave him some brochures relating to pumpkin farming, and advised him on what the possible medicines he could use were (Ridomil and Aliette). Edward then bought the medicines, which he says were fairly expensive, and used them on his farm. So far, there has been no improvement. When he took us into his farm, the effects of the "sick" were obvious, with pumpkins displaying the white/yellow signs of fungus rot.

Edward's family (he hesitated to divulge his last name) has been buying up land slowly, over the last two generations. Now, they own a few large pieces of farmland, where they grow pumpkins and plantains. They have lived here all their lives, and intend to continue. When asked, on whether electricity, telephone and postal services would improve their lives, they were nonchalant.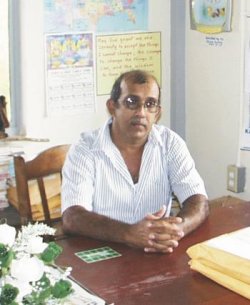 Jaidat Persaud, Headmaster, Essequibo Islands Secondary School
Their water problem has been solved by storing huge quantities of it in tanks and containers. The electricity problem has been overcome by buying a "stand-by", or generator. They own cellular phones. Medical help is nonexistent: in any case, Edward says, when the doctor came, all he would bring is "a little Panadol". In a sense, it seems, their lives exist in a perimeter entirely outside the sphere of government influence or action. When the residents of Ridge need to buy something, they find it easier to take the boat to Parika, rather than drive down to the more populated parts of the island.

At the Rum Shop, Nalini Singh sits waiting for customers. Her husband is a farmer, and the owner of the boat that was recently run over by a government steamer. One fisherman died in the accident, and yet, no one in Ridge has been paid anything for the accident, neither the owner of the damaged boat, nor the family of the fisherman who lost his life. Singh has a "stand-by" in her shop, which she needs to keep the refrigerator going. She says that she runs it almost all day, every day.

The Rum Shop in Ridge, like the others (there is one in every village) is doing well. Singh says that people come in regularly, and seem fairly happy with their lot. Indeed, this happiness in general, is one of the remarkable things about the people of Wakenaam. There is, it seems - at the risk of making a general statement - a placid acceptance of fate, and a cheerful resolution to go on living, that marks the life here. Singh is one of those cheerful people, who still manages to retain a strong sense of belonging, even while she talks of how agricultural produce is not selling well any more (her husband couldn't sell anything in Parika last week), how the government hasn't paid a dime towards her husband's boat, how her son stopped going to secondary school because of the bad road and how her daughter is being educated - but barely - at the primary school.
Nalini Singh was born and bred in Ridge, Wakenaam, and couldn't think of living anywhere else. When she visits her mother, on the West Coast, she says she wants to return home immediately. This is her land: and she's happy here.
---
The craftspeople of the Pomeroon river
Stabroek News October 13th. 2001
The Pomeroon river is surrounded by high walls of mango and cork wood trees. Its waters are smooth and dark . And they are only ruffled this Saturday morning by the occasional small boat carrying provisions to Charity wharf for tomorrow's market. Speedboats buzz across the river's surface like large dragonflies. Women look up from washing clothes by the river's edge. A canoe with three children paddles past, too shy for the camera. The houses that line the banks are brightly painted and stand in neat little gardens bursting with mussaendas, crotons and cherry trees. The scene is close to that romanticized image Westerners have of a paradise populated by ingenues in harmony with nature.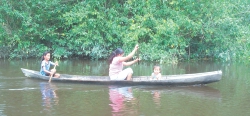 Paddling up the Pomeroon river
But look closer beneath the surface. The clothes on the lines are slightly grey and faded and have the odd hole in them. Those smiling farmers on their way to market cannot get a decent price for their produce. Plantains and cassava sell for $10 a pound, eddoes for not much more and don't bother going to the stelling unless you have an order. It won't sell. The once vibrant copra industry is moribund since world prices sank a few years ago and the oil mill at Charity stopped buying.


Theodore Rambarran and his wicker trunk
There is no electricity past Judge's creek, the border of Charity. And the only running water is the river's perpetual ebb and flow.
Look closer. Some of those smiling children are thin and have scabs on their skin. As they grow older many parents don't have money to send them to the secondary school on the Essequibo coast because it costs too much to commute. And anyway as soon as they are old enough it is time to start working on the farms most families own. Or they enter an industry that supplies much of Guyana's nibbi furniture and craftwork. The furniture in particular is exported to Trinidad, Barbados, and other Caribbean islands where it fetches high prices for its design and quality of craftsmanship.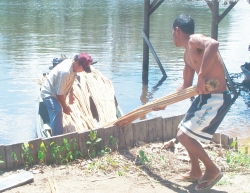 Unloading the kofa used for making the frames on which the nibbi is woven
In Siriki and Abrams Creek, two villages ten miles up river from Charity there are thirty or more families busy weaving living-room sets, picnic baskets, wide-brimmed hats and rocking chairs. This has been a tradition in the area for two generations. But it is now under threat from the rising cost of materials and rock-bottom prices for what are carefully crafted and unique items.

The craftspeople most of whom are East Indian and Amerindian need two main types of material - nibbi and kofa. Both are parasitic vines that hang from trees further up the Pomeroon river and in other interior locations. Kofa which is far more prolific is a thick hard vine varying in diameter from a quarter inch to over an inch. This is used to build the frames on which the weaving is done and for trimming the edges. Once the wood is soaked in water it can be bent to make curved corners or arches such as for headboards. Nibbi is a much finer vine and grows to lengths of 25 ft. It takes much longer to grow - up to eight years. The craftsmen first peel the bark away and after soaking the vine split it into flat strips for weaving. The cupa also has to be made uniformly round and smooth, so all in all it is a laborious, time-consuming process even before the actual making of the furniture can begin.


Putting the finishing touches to a Bombay set
These two materials are provided by local Amerindians who go far up river to get supplies. They often have to walk for days deep into the jungle before dragging out the bundles. It is dangerous work which requires climbing trees to cut the kofa vines and it is becoming more difficult as supplies of good quality nibbi become harder to find. The vine is still plentiful but each time the Amerindians have to travel further and further to collect it. As such the price has increased considerably over the last few years.
A bundle of 100 lengths of good quality nibbi now costs $1300-$1500 compared to $800 two years ago. Kofa sells from $25 to $40 for a 14 foot length depending on the width.
John is soaking some lengths of cupa by his landing and looks up a little warily as the boat approaches. He and his wife Chandrapattie have been busy all week making a popular living room set called 'Bombay.' This four-piece set consists of a three-seat sofa, two armchairs and a coffee table. The style is rounded with generous armrests. The sort of thing you might see in a luxury hotel in the Caribbean and with a thick cushion it is perfect for dozing away a Sunday afternoon. Under their workshop thatched with troolie leaves, their two workers are busy putting the finishing touches to the pieces, puttying over the small tacks and making repairs to any flaws in the weaving. Like John, Chandrapattie's parents were also weavers and when the two married they effectively joined forces. A boat arrives driven by an Amerindian man and a small boy sitting on bundles of kofa. The man unloads the material onto the shore before chatting with John. Despite the increase in prices there is no animosity between the weavers and the Amerindians. The weavers understand how hard fetching the material can be.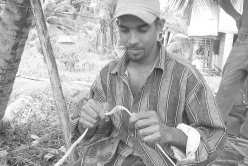 Splitting the nibbi into flat strips for weaving
It takes two people, working eight to ten hours a day, one week to finish a Bombay set. They need four bundles of nibbi which costs at least $4800. Then they need roughly 150 lengths of kofa around $5000, five pounds of tacks ($500) and plyboard or wood for the seats ($2000). Total cost for materials is $12,300. John is selling the Bombay set for $30,000 but it usually sells for as little as $21,000 to $25,000. He has two helpers putting finishing touches on the furniture and he contracted out the weaving to a nearby family. All this increases expenses and in the end their profit is minimal. And work does not come every week so their income is probably close to the minimum wage for a job that is highly skilled.


Herman and Jane Rodrigues: A pension and a one-room shack
This same Bombay set might be shipped to Georgetown and will sell for upwards of $50,000. If it goes to one of the islands it would fetch over $100,000. Creations Craft on Water street sells a comparable collection for $63,000. Elvis Dias, the manager, says the cost of transporting furniture from the Pomeroon is high and the business has to finance the purchase until the product sells which might take months. He does not believe the weavers are being exploited saying, "I pay whatever they charge...They give us their price." And he showed an invoice for a five-piece set for $45,000.

Herman Rodrigues is eighty years old and lives in a little shack just off the river bank. The dog in the dusty yard is too busy scratching himself with his hind leg to look up as we come ashore, but three little half naked children peer from a nearby home. A chicken patrols the weeds looking for something to peck. Herman and his wife Jane both have cataracts which give their eyes a misted over watery look as if they are about to burst out crying. She is rake thin in the way some old people become as if food did not matter any more. She sits silently in a cloth hammock in a blue dress that has seen better days. Herman leans back on the railing of his steps in a pair of old shorts. He has been making craft since 1963 and has little to show for it but his pension and a one-room house. He claims to have invented the peaked cap, a sort of wicker baseball cap once popular with farmers. That was when business was good and he could get a decent price for his work. Nowadays he says he gets $100 for such a cap and $150 for a woven rimmed hat. The most he can make in a day if he really works hard is four. Wall pockets sell for $75 each - about the price of a soft drink. Deducting for the cost of the material Herman says he might make $400 a day. He points to a bookcase he built for a customer who never came back. This happens often up here. People order something and then either don't show up or say it was not quite what they wanted so refuse to pay for it.

In Abrams Creek Theodore Rambarran is lying in his hammock watching the afternoon pass on down the river. He has just finished making an order of picnic baskets. Stacked up in the corner are a set of children's rocking chairs. Theodore who is 57 is originally from Reliance on the Essequibo coast but has been weaving in the river for the last forty years. He says to make a picnic basket which takes about half a day it costs about $470 in materials and he sells a basket for $600-$800 depending on the size. The rocking chair sells for $1000. Herman says the only way to make money is to make large quantities - a kind of mass production. He has his teenage son helping him and his wife also pitches in. It's a family affair and once the order is there they work all day and often into the night to get it finished as fast as they can. "This work don't have any time." When it's all over and they have got paid he might go to the local shop and buy a half of rum for his friends.

Nibbi caps and hats sell in Georgetown from $400 to $1500. Colin Maloney of Colin's Crafts and Things at the Stelling View market says the craftspeople are making money. He says the prices are higher than those the people are claiming and they can produce more in a day than they say. He says he buys caps and hats from $200 to $400. And the weavers are not saying how they take an advance and then use it to make something for someone else. Colin sells the same picnic baskets for $1500. At F Gibson Craft Shop in the Hibiscus Plaza complex outside the Post Office a similar basket sells for $2000. A sign advertises genuine nibbi crafts from the Pomeroon. But the lady there says she does not buy directly from the area but gets merchandise from middlemen. Elvis Dias also says he buys craft from middlemen. Colin says the residents have other jobs such as wildlife, farming and timber, "so this wicker is just a side business for them." He smiles and says he is helping to keep them alive in these rough times.

One may wonder why these families do not go do something more profitable. But in the Pomeroon the alternatives are limited to farming which pays worse or cutting wallaba staves or other timber work. Despite the present hardship the community is remarkably stable. While families practically all over Guyana have relatives overseas almost none of the families here have a close dependent living abroad. It's a long way to the US embassy. Many parents have however made sure that their daughters marry coastlanders.

They are afraid to say who they sell their products to in case they lose the business. Many of the craft shops in town buy products from there along with dealers from the islands who resell the furniture at exorbitant mark-ups. And sometimes the craftspeople are scammed out of money. One man says he is still owed $750,000 for a container of furniture he shipped in April. Another sold $435,000 worth of items and calculates his earnings for a month's work at perhaps $40,000.

One resident says the people in the Pomeroon are timid and too easily cowed by some outsiders who bully them into accepting any price. And when they come to collect, the buyers sometimes give them what they feel like regardless of what they have previously agreed.

But Elvis Dias of Creation Crafts says the producers he deals with are hardly timid and certainly state their wishes. He has not heard them say they are unhappy with the price they receive. The craftspeople are also their own worst enemies as they continually undercut each other to sell their products. If a neighbour is selling a Bombay set for $25,000 someone else would look to sell for $22,000.

In the early nineties the families attempted to form a cooperative that would set prices but it never got started so they scramble amongst each other for business which has been steadily declining. This is because a number of wicker factories have opened along the coast. The owners who export most of the furniture come in and buy up all the material and then hire young men from the Pomeroon to churn out the work in short order. This drives up both the cost of labour and materials.

Even taking into account the differences in prices quoted by the craftspeople and the buyers, the actual producers remain poor and underpaid for their unique knowledge and skills. Very soon the Pomeroon might see a similar exodus to those which have affected other riverain areas of Guyana as the people move in search of work. That would be a pity. For some of the beauty of traditional crafts is the way they reflect the places they come from.
---
Guyana Chronicle September 23rd. 2001 by M.Z Ali
SEVERAL villages in Guyana are of historical significance in one-way or the other, some greater than some and others whose very existence provides solace to those who may have had golden memories.

Leonora on the West Coast Demerara is such a place, and no attempt to delve into its history would go without reward even if it means personal satisfaction.

In the olden days, it used to be referred to as Plantation Leonora, and is situated some nine miles from Vreed-en-Hoop. The name Leonora is Dutch, having gotten it during the Dutch occupation of the country. It was originated from the names of two Dutch children, Nora, a girl and Leo, a boy.

Leonora encompasses an area of some five square miles, and in the olden times was under the Parish of St. Luke. It stretches from Edinburgh in the East to Stewartville in the West. It goes north to as far as the Atlantic Ocean and South to as far as the conservancy.

This once busy plantation was the hive of economic activities mainly because of the presence of a sugar estate where most people on the plantation and even from surrounding villages used to be employed.

It was once graced with a railway station until the railway was disbanded in the 1970's. Still standing are the police station, a Mosque and a Temple, where the majority of the population being Hindus and Muslims, offered their worship.

There is also a Post Office, which serves the entire district and surrounding areas, while a cinema was always there providing entertainment, prior to the coming of the television. Leonora also has two schools, a secondary and a primary, which were built during the 1960's. These schools cater now for children from the entire West Demerara area. There is also a Cottage Hospital, which is today manned by a doctor and trained nurses.

There is also a very large market which does very brisk business on Saturdays when people from far off areas go and hawk their goods and do shopping.

While most of the population of Leonora are young people and know nothing or very little about the plantation in "logie" time, many of the older folks who are still around today remember what life was in the days when the entire population, most of whom lived in logies (long ranges which were built by the owners of the sugar estate to house the indentured labourers who worked on the estate).

From 1821 until its was closed down in mid-December 1986, Leonora estate changed its proprietors, attorneys and administrators several times. In that same year (1821), the proprietor and attorney was George Rainey who served in that capacity until 1871 when the estate was taken over by Sandbach Parker and Company, a name we are all familiar with because of their store in Georgetown, and William Russel became the Manager

Sandbach Parker and Company was the proprietor until 1969 when they sold out to Jessel, another British.

Prior to the Jessel take over, the administration changed hands periodically, starting in 1905 with the Administrative Manager being Mr. G. E. Anderson. He was assisted with the running of the entire estate with the help of "white Overseer"; who supervised works in the cane fields.

He was succeeded by Mr. A. E. Bratt in 1920, who, 10 years later, in 1930, was succeeded by Mr. Mr. R. E. Rodes, who gave way to Mr. Laiwood in 1934. After serving for 11 years, he was succeeded by Mr. R. H. Barnwell in 1945.

Mr. W. O. B. Rhigden, who took over in 1951, did not last long, and made way for Mr. Gregory, who, also after one year at the helm, was superseded by Mr. E. H. Kingston.

Kingston was followed by Mr. Mr. J. V. Ryder who took over in 1957 and served exactly 10 years before handing over to Mr. Balford in 1967.

They were all Administrative Managers of the estate until Mr. Jessel bought over and made this post extinct, for the work of the Administrative Manager was taken over by the Personnel Officer. The Overseers have also been relieved and their work was taken over by locals, who were known as Field Clerks.

As mentioned before, the labour force on the estate was supplied by indentured labourers who were brought to the then British Guyana from India and other countries. Upon arrival on the estate, they were housed in the logies, which were divided into rooms and given to them. They all lived in one bloc or community on the estate. Yes, they were estate people.

The accommodation was so designed to have easy access to the labourers, the majority of whom worked in the cane fields from dawn to dusk. Also, by having them together, it was easy to have effective management and control over them.

This kind of accommodation also offered the immigrants a special incentive in their being able to see each other as much as it was possible and to solder a social and brotherly relationship.

To satisfy the "white man";, whose ambition was to get as much as possible out of the labourers, it was necessary to secure their health. For this purpose, a hospital was built in 1868, just next to the sugar factory.

The two-flat building which had a doctor and dispenser, had accommodated 23 beds for males and 18 for females on the first floor, while on the upper floor, there was a male ward with 57 beds.

All food, hospital clothing and medicine were supplied free by the estate. The hospital was in operation and maintained until 1968, when it was demolished and the materials given for the construction of the Leonora Government School, now Leonora Primary School.

Workers now seek medical attention from the estate's dispensary and the Government Cottage Hospital.

Their dwelling was sandwiched between the sugar factory which was to their west and the elaborate official "white man" compound in which were housed the mansions of the Administrative Manager, other managers and the overseers, with conditions par excellence, perhaps missing only the snow they were accustomed to in England.

They were so positioned to offer ready assistance if anything went wrong in the factory and which warranted their immediate labour or presence.

And it was from under the gargantuan saman trees of this "pond," this "garden," this "citadel" that the most earth-shaking, exciting and spine chilling stories were told by the older folks who took turns in the nightly event which drew larger gather every evening. Indeed it was from under these trees, that `jumbie', `old hige', Anancy and other stories were being narrated.

It was a nightly ritual to see the older folks, especially men with their `bottle lamps' and black tobacco and in some cases jute bags on which they sat, heading under the trees which were in proximity of their abode.

Children kept their distance by staying home in the 'logie' seeking sanctuary. Apart from the fear that would have been driven into them by the stories, it was the general rule that in those days it was a taboo for children to be seen in the company of the older men.

The story-tellers would even tell you stories about their day's encounter in the backdam. Whether false or true, when these macabre tales are told, they were enough to drive fear in the bravest of the brave among the audience.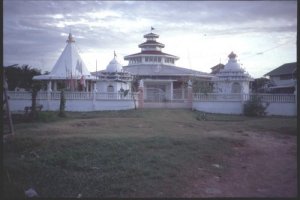 They would tell stories about how they confronted the alligator with the golden tooth and the alligator with the golden crown, and how it was better if one wanted to live, to stay clear of the canals in which they had been seen.
They would also tell stories about the dangers of being under the silk cotton tree, especially at noon, because, as legend would have it, it was under those trees that the Dutch, who once occupied Guyana, loved to roam after death (Dutch jumbies). They also told gripping stories of `Dutch jumbies' breaking the necks of children and even adults.

However, they did it, these story-tellers also had the knack to grip their audience, and indeed people used to believe.

The women folk, too, took their turn in the mornings after preparing lunch and doing other chores. They, however, were involved in a kind of `talk show', for everybody's business was being discussed. Yes, it was from under those very trees that the private life of others were being revealed. The women were the judge, jury and executioner, all in one.

Apart from the estate location in those days, Leonora was also made up of Groenveldt and pasture. These two areas stretched mainly along the public road, and away from the sugar estate.

The rest of land that made up the area of Leonora was used as pastures, rice plots and limited farmlands. As time went by, the estate allowed some of the labourers to cultivate rice on the plots and to do limited farming.

But today, things have changed, and all those rice plots and pastures have made way for housing schemes which today house offsprings of those very labourers who gave their lives for `king sugar'.

Today, Leonora is divided into several areas where there are comfortable houses, streets, potable water and electricity. Apart from Groenveldt and pasture, there are also Sea Field, Para Field and Sea Spray, all gracing the beautiful landscape of Leonora.

Bulging with a population of mostly youth today, the people freely practise their religion and cultural preferences without interference.

Unlike the days of indentureship, today, most of the younger people are urged by their parents to turn to education. The older people were not keen in those days to educate their children because of the belief that they could have returned to their motherland any time. Another important consideration was that they feared their children would have been doctrinated into Christianity. Not so today. Education is uppermost in the minds of most of the young people, and some have already made great achievements.
---
Guyana Chronicle September 30th. 2001 by M.Z Ali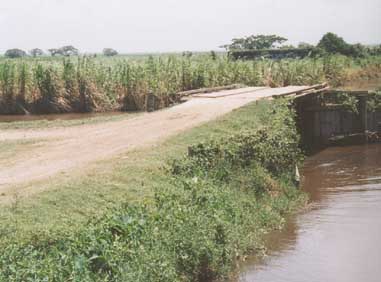 Sugar cane still being grown at Leonora. Bridges, roads and canals are still being maintained to permit easy transport of canes to Uitvlugt Estate.
AS WE continue on our journey to Leonora today, it might be useful to give more insights into the population make-up. This is important because to know Leonora is to know the people and "from whence they came."

Of course, with the passage of time the population mix of Leonora has changed considerably from what could be termed the perfect rainbow mix to just one race today.

In 1821 there were 395 slaves on the sugar plantation. This number rose to 430 in 1832. After the slaves, came the indentured and non-indentured immigrants from Calcutta, Madras, China, Africa and Madeira.

The indentured immigrants were the East Indians and Chinese, who at that time numbered about 717. The non-indentured immigrants from Calcutta, Madras, China, Africa and Madeira amounted to 450.

This was the population at that time that formed the core of the labour force, with the exception of the Chinese who took to business.

| | |
| --- | --- |
| This is what is left of the once flourishing Leonora sugar factory. While the buildings are falling apart, the chimney in the background is still standing. The lift is at right, and in the foreground is the canal that took the cane punts to the lift. | |
| | |
These were the days when the entire plantation was a single unit, for everyone lived as one big family. But as time passed, everyone became the creature of the age in which he lived, and the population, that beautiful mix that was beyond reproach, gradually drifted to other neighbouring districts and left the area which has since become a predominantly Indo-Guyanese one.

The labour force at the factory, however, remained multi-racial until its closure. Since the estate"s closure in 1986, most of the factory workers have gained employment at Uitvlugt estate and elsewhere, while the field workers were retained to continue with the harvesting of sugar cane and other field work.

In the 1940"s and 1950"s, Leonora Estate was a classic example of unity in diversity, especially in the sugar factory and other key areas of operation including the garage (workshop), the pure water supply system, the electrical and the maintenance sections among others.

Indeed, it might be fair to point out that it was during those two decades that the people of Leonora propelled themselves to the top of the local map with their prowess in various sport events, politics and their ingenuity in keeping all sections of the estate"s operations functioning at full capacity.

The people were so glued to the estate and their tasks, that several initiatives to have them divorced from the job met with equal resentment, and only death could have parted them from their "empire."

Yes, this was the mettle from which the people were made. This was their demonstration of love and pride for their job that meant everything to them. The sugar estate was their final bastion.

These were the people, who, from their homes could tell whether something was going wrong at the factory only by hearing the fluctuating sounds of the machines instead of the "soothing rhythm" they were so accustomed hearing day and night.

| | |
| --- | --- |
| This is `Alice Street" in Seafield, named after fallen heroine, Kowsilla who was run over by a tractor driver. | |
| | |
These were the men, among whom were Messrs. Nain Singh, Karmalie, Merchant, Bisnauth, Beharry, Leander and Hyman. There were also Parker and the other sea punt men who braved the Atlantic transporting sugar from Leonora to Georgetown by sea in wooden punts, driven only by sail, until they became captains of the motor driven barges which later replaced the wooden punts, and many, many others whose toil and sweat were reflected in the millions of tons of sugar that were manufactured during their time on the estate.

I will be amiss if I do not recognize the contribution made by other sections of the work force, both factory and field and others. They also played important roles, for in the manufacture of sugar, each operation complements the other. Each had a common goal foisted upon them by the white man"s ego, and with servile alacrity, they worked towards realizing that goal.

Children, especially boys, started working at a very tender age in order to help improve the economic situation of their parents. They took to what was called the "creole gang," which was a gang of mainly boys, who fetched earth for building "stop offs," bail cane punts and those who served as "battu boys" to white overseers and managers.

The "batu boys" were like male servants to their bosses, and their job entailed cleaning boots, running errands, groom the mules for their bosses and lead and follow the mules as the case may be, while the bosses ride.

The adult labour force in the fields were divided into gangs, of which there were many including the shovel gang, weeding gang, cane cutting gang and jobbing gang, each headed by a "driver"(local supervisor).

Apart from the cane cutters, these categories of field workers worked from 6 am to 5 pm daily, with the most highly paid female worker receiving about $1.50 per week.

Strikes were prohibited, and agitators were restricted from crossing estate boundary. In addition no one was allowed to be absent from duty, unless he or she was sick in hospital or was in prison. All functions were held on Sundays which were usually non working days.

As times went by, conditions both in the fields and the logies progressively worsened and field workers had to drink impure water from the middle walk (canals) in the backdam. In order to prevent epidemics, workers frequented the hospital at weekends to swallow their dose of cascara and salts, a mixture that was always plentiful at the hospital.

So the people toiled for hours unending, only to come home to their logies, and latrines that were built across trenches for both men and women. There was no decency in logie life, but for those people survival was very important, for they knew that no one has ever deceived the whole world, nor has the whole world ever deceived any one.

They suffered silently, they cried silently and they endured silently, but with cautious optimism, they stuck to their routine day in and day out.

The swelling of the logie population was beginning to pose a serious problem for the estate"s authorities, and conditions were getting worse and logie life was, with each passing day becoming a nightmare.

Trade union and political leaders, including late President, Dr. Cheddi Jagan soon took up the workers" fight, and together with local leaders, the struggle had begun in earnest.

By this time, several changes had taken place, and workers had won the right to strike for better wages and conditions of work or for any grievance they may encounter while working.

As the struggle for better working and living conditions intensified, so was the struggle for trade union recognition, that is, a union of the workers" choice. But the struggles over the years were not without their toll.

Indeed it was during the struggle for trade union recognition, that Kowsilla (Alice) was ran over and killed by an estate tractor in March of 1964. She was among scores of other stalwarts engaged in a squatting exercise by the factory bridge for recognition of the Guyana Agricultural and General Workers" Union (GAWU) when she was murdered.

Others, mainly women, jumped into the middle walk and elsewhere to avoid being driven over by the tractor. Many sustained injuries, but the death and injuries were not in vain, for today the majority of sugar workers are represented by the GAWU., the union of their choice.

As living conditions in the logies became increasingly unacceptable, strong representations were made to the authorities, and after some time, the first housing scheme was established at Seafield in the 1950"s and the workers were granted loans from the Sugar Industry Labour Welfare Fund (SILWF), and for the first time the dismantling of the logies started at Leonora.

Housing schemes were also established at Para Field and Pasture, all in Leonora, and also in neighbouring Stewartville to accommodate some of the logie people from Leonora.

While most of the older people who have built these houses have already died, the houses are now taken over by their children and in some cases their grand children.

For them, it is just getting it on the "silver platter." But they are proud to be the offsprings of those fighters who gave their entire lives to satisify the while man"s desires.

Has Leonora lost its Glamour? For me it is now GOLDEN MEMORIES AND SILVER TEARS.
---
June 27th 1998.
Nabaclis Village on the East Coast Demerara in Region Four (Demerara/Mahaica), is one of 19 villages administered by the Haslington/Grove Neighbourhood Democratic Council (NDC).
Found some 17 miles from Georgetown, Nabaclis is bordered on the west by Cove and John and on the east by Golden Grove.
Populated predominantly by descendants of African slaves, the village has some 4,000 residents. Recently, the 150th anniversary of the purchase of the village from the colonial masters was observed.
Many residents at Nabaclis also claim strong links with the village of Victoria, East Coast Demerara. Victoria was the first village bought by freed African slaves in 1849. According to residents, in the past, men from Nabaclis sought wives from Victoria so that today, many trace their ancestors to Victoria.
The older residents noted, too, that in the past, if you did not come from Nabaclis, residents said that you came from `Bucklis'. Coming from `Bucklis' meant that you came from any other part of the country.
One thing which residents lamented was the fact that they have not retained much of their African ancestors' culture; they noted that the people of Hopetown and Ithaca were more fortunate in this respect.
Among some of Nabaclis' more notable villagers are, attorney-at-law, Dr Barton Scotland; historian, Letroy Cummings; former bank manager, Godfrey Henry, Jnr; and Permanent Secretary in the Ministry of Youth and Culture, Keith Booker. Among the ancestors of the early proprietors are the Eliases, Kendalls, Kingstons and Hugheses.
Golden Grove and Nabaclis for decades in the past were administered by the Golden Grove/Nabaclis Local Authority. In addition, the two villages depend on each other for a number of services such as primary and secondary schools, potable water supply, market facilities and a cottage hospital among other services.
At present the Haslington/Grove NDC is working on the establishment of a housing scheme to benefit residents of both Golden Grove and Nabaclis in the south eastern section of Golden Grove, a short distance away from the residential President's College.
The 18-member NDC is headed by former police officer/farmer, Godfrey Henry, who told Window on Guyana that residents from the two villages would benefit from the 137 house lots which have been allocated. The land, Henry said, has been given to descendants of the early proprietors of Nabaclis and Golden Grove.
Nabaclis would also benefit from a plot of land which the NDC has donated to the Ministry of Education, for the construction of a new primary school in the south western section of Golden Grove. The present Golden Grove Primary is said to have outlived its usefulness and is overcrowded.
The infrastructural works in the housing scheme and the area earmarked for the nursery school have been developed at a cost of $1.1 million by the NDC, over a three to four year period, Henry said.
The office of the Haslington/Grove NDC is located on the Middle Walk, the main thoroughfare in Nabaclis. The current NDC office building was the former local authority office and was built in the 1950's. Before this, the local authority office was found on the Middle Walk on the northern side of the East Coast Public Road.

In the recent past, the current NDC building housed the Nabaclis Nursery School on the ground floor. The now vacant space is being eyed as a `mini' community centre which will be used to conduct adult education classes and for indoor games. The southern section of the building accommodates a functioning branch of the National Library.
Also operating out of the office of the NDC, is the Nabaclis Community Development Council, which was formed after floods devastated farms and dwelling places in the community, during the
latter part of 1996 and early 1997. O'Neil Burke is the chairman of the CDC.
In the recent past, Nabaclis could have been described as a provision and livestock farming community but the floods which ravaged the community have all but devastated those who depended heavily on farming.
The community is easily accessible by road and the Guyana Telephone and Telegraph Company is also expanding its service there. While Window on Guyana was in the community, technicians were running lines in the southern section of Nabaclis.
The recently-commissioned $5.3 million Nabaclis Nursery School is the only school found in the village.
The school was built by the Region Four Regional Democratic Council at its present site with funds from Central Government, and the staff and children took occupancy of it at the start of the Easter Term in January.
Prior to moving to the current location, the school was housed for years on the ground floor of the Haslington/Grove Neighbourhood Democratic Council.
The school which has the capacity to accommodate 150 children, has 122 children on roll. The 54 boys and 68 girls come from Nabaclis and other neighbouring villages such as Cove and John, Victoria, Golden Grove and Haslington.
The school is found in Section `A' of the village, opposite the Dr C.C. Nicholson Memorial Hospital. The teaching staff consists of the headmistress and four acting teachers.
A brief history shows that the Nabaclis Nursery School was first a private kindergarten school run by Brenda Abrams, under her dwelling house in Nabaclis. It catered mainly for the children from the Nabaclis, Cove and John and the Golden Grove villages. At that time, the 80 children on roll were under the supervision of an untrained headmistress and one teacher, Lucy Abrams.
According to a brief from the current school's headmistress, when the District Council took responsibility for the school, it was housed in the bottom flat of the Golden Grove/Nabaclis Local Authority office. This bottom flat was not the best environment for the nursery school child. However, there being no alternative, teachers and children had to make the best use of what was provided. The council took the responsibility for the maintenance of the school and paid the teachers' salaries.
In September, 1976, when government took direct responsibility for nursery education, Lucy Abrams was retained as teacher-in-charge.

The school then catered for children from the ages of three years and nine months to five years and nine months. The children on roll had increased to about 120 and there was a staff of five acting teachers.
In September, 1983, P. Wilson, a trained teacher, was appointed headmistress, while two other members of staff, Rati Rambatan and Roxanne Archer were attached to the In-Service Teachers Training Programme at the Cyril Potter College of Education.
In September, 1990, Corinne King, (the present headmistress) was seconded from the Gandhi Memorial Nursery, as headmistress of the Nabaclis Nursery School for one year. She had a staff of four acting teachers. A year later, she was replaced by Pamela Wickham, who was transferred to Nabaclis Nursery.
In September, 1996, King was re-appointed headmistress of the school with an increased staff of six teachers.
Centre Point, named for its central location in Nabaclis, is probably the most popular recreational venue for villagers who wish to celebrate a special occasion, or even `hang-out' and have a good laugh and talk over a bottle.
Centre Point, consists of a beer garden, liquor parlour and a ballroom which could be rented by villagers for weddings and parties.
The facility is owned and managed by 59-year-old, son-of-the-soil, Samuel Augustus James. Born on December 6, 1938, at Nabaclis Middle Walk, he left for London in the 1960's and returned to the country in 1980 with his wife, Mignon Yvonne James, whom he married in England.
On his return he and his wife established a grocery in 1982, but this venture was not successful since, at the time, they could not obtain the necessary commodities needed for the grocery.
About 12 to 18 months later, they converted the grocery into an off-licence liquor store and beer garden, which proved to be more successful. James, however, said that a limited amount of alcoholic beverages were available to customers.
"If you wanted to buy 20 cases of beers, you couldn't get it," he said.
Only ten cases of beers alone were allowed, he said adding that "they used to limit everything and that helped to kill business".

James stated that in 1984, the store was converted into a full licence liquor parlour. His wife and himself built an upper flat which was used as a drinking parlour. The parlour proved successful for about 12 to 18 months. Christmas time was best for business at the drinking parlour when there were about two to three weddings as well.
The success of the business declined, however, simply because of the mushrooming number of illegal bottom house rum shops in the village, which customers patronised. Business automatically slowed down at Centre Point.
"There were more unlicensed than licensed stores opening and nothing was done," he said.
James said that he did a little redecoration to the ballroom and started renting it to customers who wanted to hold weddings and parties. He said that the response to this was not favourable at all, since it was probably twice in a year that people would rent the place for a wedding and parties were actually non-existent.

"Now it is even worse, the ballroom has been left totally abandoned. It's like people don't get married these days," James said with a wry smile on his face.
He said that in 1989 he further expanded his store to include a snackette, noting that business in the village is "up and down". Beverages are also sold at the snackette but sales are not regular. Some of the food items sold in the snackette are fried fish, fried chicken, fried cassava, black pudding, white pudding, cassava balls, egg balls and fish fingers.
He said that legal liquor restaurants are no good these days because "you pay about $14,000 a year for licences on items sold. Ten thousand dollars is for the liquor licence and about $4,000 altogether is for beer, malta and cigarettes licence."

Commenting on business the businessman said that sales "stinks, it is rotten, it is no good but most of all it is unbelievable". He admitted that these days he "cannot see any profit... You cannot see what you are working for", he said, frowning.

James said that compared to the time when the shop was established business has deteriorated.
But in comparison to the older days, he noted that there was no limit on the stock of alcoholic beverages one purchased; the drawback is that the prices are much more expensive than before. He expressed the view that the decline in business was mostly due to the high prices.
Earlier in the week, he said, he had told his wife that it would be better if they closed down the store because of poor sales. But after thinking it over, he said, he realised that villagers depended on his store for some of their basic needs. It is the only one in the village which sells beverages wholesale.

"If business does not improve by year end, I will be forced to close down but I still have hope that things will improve," he said.
With a bright gleam in his eyes James recalled that in the "good old days" he held sessions of `Oldies' every Friday night. After a few years "people hardly came to Oldies since the times were changing" and people changed with the times. He still receives requests to "bring back Oldies on Friday nights". But he cannot meet the requests, since there is not enough interest shown, he said.
Sixty-eight-year-old Yvonne King, better known as `Sister Dolly' is the founder and head of the Mystical Order of St Gabriel's Mission at Nabaclis.
The spiritualist, who though recuperating from a period of illness, after being hospitalised for a while, shared some of her experiences with Window on Guyana. She had received an injury to her left leg and being a diabetic, had to have the leg amputated after it developed an infection.
Known for helping people through prayers and meditation, Sister Dolly, respected as the `village mother' said that it is not she herself who helps people but Jehovah who has given her the gift and who uses her "structure", that is, her body, to help them when medical science fails. Even though she is not very well at present "sick people still come", she said.
Sister Dolly stressed that her ability to help others was simply a gift from God, which she cannot pass on to her relatives or any appointed person as "an ordinary person without the gift [cannot] heal people".
She noted that people come from all walks of life, from all over the country and from further afield seeking her assistance. Wherever and whenever people seek her help, she tries to administer to their problems. She has been to neighbouring Suriname, Trinidad and Tobago, Barbados, St Lucia, St Vincent and Curacao to render assistance. She noted, too, that many people whom she has helped have returned or in some way would let her know how she has helped.

She has built her own church building where she preaches from the Bible to her congregation. The church's Sabbath is observed on Saturday and its members meet regularly. Married for 46 years, Sister Dolly has the support of her husband and children in her mission.
Among her works are bathing for protection and cleansing people of evil, and giving `guards', also to protect against evil. She also cures people of "illnesses when they are possessed by demons", she says. Sister Dolly also `reads' people's fortunes by using a glass of water. She said that this way she could tell what would happen in the future to the person and what is happening in their lives as well. She does this for a fee of $500.
Asked about the time in her life when she recognised her gift, Sister Dolly said that she was born with the gift but she recognised her potential as a teenager. She came from a family with a religious background, she said, and it was during a family thanksgiving service that she discovered the gift of "doing wonderful work" to help people.
She added, too, that sometime on seeing a person she could immediately tell if she could work for them.

"If it is a case where `she do you something and you want to do she back', me ain't dey in that. The revelation is there," she said.

Though not providing details, she said that her work in healing people was "a long, drawn out story".
The young people of Nabaclis did not want to be left out of the village's 150th anniversary celebrations so they erected a monument to mark the anniversary of the establishment of the village.
The 150th anniversary monument could also be called the `Tamarind Tree Monument' as it depicts a century old tamarind tree which is found a few feet away from the monument site. The depiction, however, includes a man standing at the base of the tree.

When Window on Guyana visited the East Coast Demerara village last month, a group of young volunteers were busy putting the finishing touches to the 150th anniversary monument, at the head of the northern section of Middle Walk, also known as the Health Centre Road.
Those who were seated under the tree vacated their seats, giving the `seat of honour' to the Window on Guyana reporter. Some continued working, but nevertheless responded when asked questions. The seats were chiselled from the roots at the base of the tree.

Led by contractor and block-maker, Joel Da Silva, the group of young men, who began working on the monument just a few days earlier, told their story.
According to Da Silva, he attended a commemoration meeting at the village office about two weeks earlier and the construction of a monument was suggested. There were two suggestions as to the site of the monument. It was suggested that the monument be erected "at the head" of the Middle Walk on the southern section of the village in front of the Haslington/Grove Neighbourhood Democratic Council Office or "at the head" of the Middle Walk on the northern section of the Middle Walk, by the tamarind tree. It was finally agreed that the monument would be built outside the NDC office.

Nabaclis is divided into a northern and southern section by the East Coast Demerara Public Road, while the Middle Walk divides it into eastern and western sections.
Finally, a group of young people, who felt an affinity with the century old tamarind tree whose shade and roots are called the community meeting place and in former times called the village parliament, met informally at the seawall which is several metres away.
Credit for the idea of the construction of a monument by the young people, must go to young businesswoman, Claudette Charles. While the group approached the Nabaclis Community Development Council and the Haslington/Grove NDC for permission to build on the village's reserve, the young people began to lobby for donations and to pool ideas and resources to start construction.
The young people did not want to put a value to their labour which they have given to the project but materials were valued at $40,000.
With approval granted, young village artist, Mark Ross, began to conceptualise the idea which came from the young people. Ross explained that the tamarind tree is a symbol of the important role the century old landmark played in the lives of residents in Nabaclis. The man below represents the will of the villages' ancestors to persevere to ensure a better life for their descendants.
The tree is still a popular meeting place. On Boxing Day it is still the site of an annual get together when they cook, eat and dance in the open air. There they would entertain friends from other villages or from overseas.
Of course the young people sought the advice of the senior citizens who, willing to encourage the young ones, put their resources into the project.
When Window on Guyana visited, the project was in its fifth day and the young people were working feverishly to have it completed by May 30. "At least within the anniversary month", which was May, they said. They worked on the project from sun up to sundown.

When will the monument be officially unveiled and given the blessings of the community? A date is to be fixed. A second commemoration monument is still to be built outside the NDC office.
Forty-six-year-old Joseph De Abreu is the only air condition (AC), stove and refrigeration repair person in the Nabaclis/Golden Grove area.
His workshop is located in Golden Grove under his house where he works along with his 17-year-old son. It is opened from Monday to Saturday but repair work is only done three or four days a week.

De Abreu was born in Nabaclis but went to live at Linden at age 9. He attended both primary and secondary schools in Linden then moved to Georgetown at age 20, from where he went to Golden Grove.

When he first lived and worked in Georgetown, De Abreu had worked with a company as a part time refrigerator repairman, before going completely into the profession.
His entire family migrated to Canada in 1983 and he returned to Guyana in 1994 for the first time.
De Abreu said he made several trips between 1994 and 1996, during which he constructed his house and established his workshop. He subsequently remigrated to Guyana after living in Toronto, Canada, for 14 years.
De Abreu said he still goes to Canada to get material that he needs in his workshop that cannot be found in Guyana.
The repairman said that most of the AC repairs done in his workshop are on vehicles as few people had air conditioned homes. He said that stove repairs were done on a very small scale, the reason being that if a stove needed serious repair then it was better for the owner to get a new one, since the repairs would be nearly as expensive as a new stove. De Abreu noted that repairs to a stove can cost up to $10,000, but that he would not repair a stove if the costs exceed $4,000.
De Abreu said that domestic refrigeration is the most successful of all the repair jobs done by him. He said that he usually collects and delivers items that he repairs, at no extra cost. He said that his customers come all the way from Mahaica to Buxton. He noted that his most faithful and numerous customers are from the Mahaica area.
He noted that at present business is slow, blaming this on the political instability in the country.
De Abreu said that if this continues for the rest of the year then he would be forced to pack up and return with his family to Canada.

He, however, said he was hopeful that things would improve, since the first half of the year was usually the slowest.
The businessman said that last year business was much better than the previous year.